Ho Chi Minh City, 30th June 2011– Wildlife At Risk (WAR) in cooperation with Ho Chi Minh City Forest Protection Department and Nui Chua National Park, Binh Thuan Province successfully released twelve endangered sea turtles to Bai Ngang beach, Nui Chua National Park. Journalists from Binh Thuan Province and Ho Chi Minh City also joined this activity.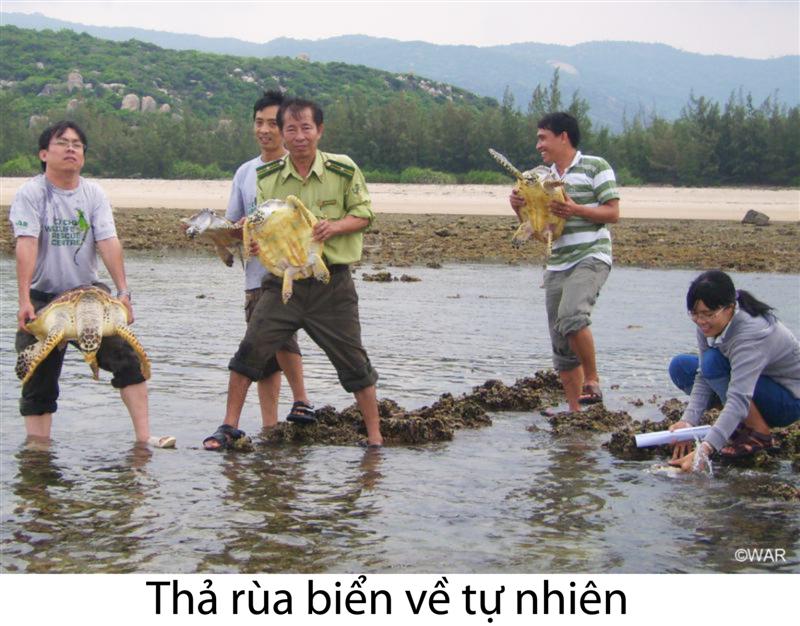 These twelve individuals of sea turtle that includes eleven hawksbill turtles (Eretmochelys imbricata) and one green turtle (Chelonia mydas) were rescued by WAR and authorities from Suoi Tien Culture Tourist Park on 20th of June 2011.
"These individuals are healthy and mature, so they have recovered in the short time. After medical evaluation, Staff from Cu Chi Wildlife Rescue Station (CCWRS) have decided to choose this location for releasing them because it has not only suitable habitat and food sources for them but also holds the Sea Turtle Conservation and Research Department", said Mr. Le Xuan Lam, Manager of CCWRS.
Before releasing, all of these individuals were numbered to monitor them in the wild.