The Wildlife Education Programme aims to raise awareness, improve knowledge, foster positive attitude and enhance skills for stakeholders so that they are able to make educated decisions to change their behaviours towards wildlife protection.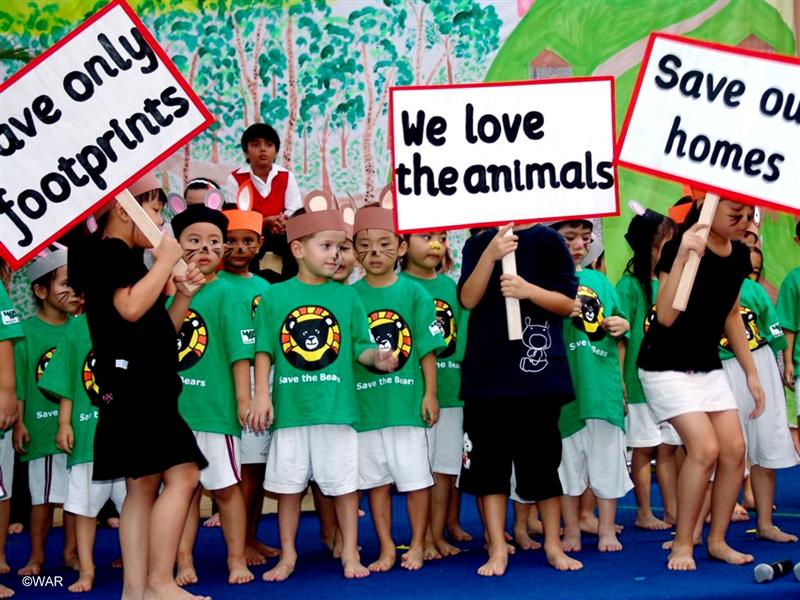 Programmes
School Programme
The future of wildlife conservation in Vietnam lies in the hands of today's school children. Inspiring them to appreciate the value of, and take pride in, their unique natural heritage is vital.
WAR currently conducts many types of activities for children of all ages. Below are some examples:
Nature interpretation field trips to discover nature at national parks and protected areas
This kind of field trip includes various educational activities to help the students experience nature using all their senses. It exposes the students to nature and various ecosystems beyond the classroom and instills in them a greater appreciation of nature. This initiative was enthusiastically greeted and stimulated interest among students and teachers. The latest example of this program is the trip to discover the nature of Cat Tien National Park for 50 students between the ages of 12-15 over two days and one night. Previously, WAR worked with the Youth Union (Youth Communist Party) of Ho Chi Minh City (HCMC) to raise environmental awareness to over 700 schools in HCMC and other parts of southern Vietnam. The activity also involved visiting the Sai Gon Zoo. WAR's marine conservation awareness raising programme was a large event for 500 Con Dao Island children with a series of developing conservation competitions and a successful campaign entitled 'Bien Cua Em' ('My Sea'). Various field trips to discover Nui Chua and Con Dao National Parks were also conducted.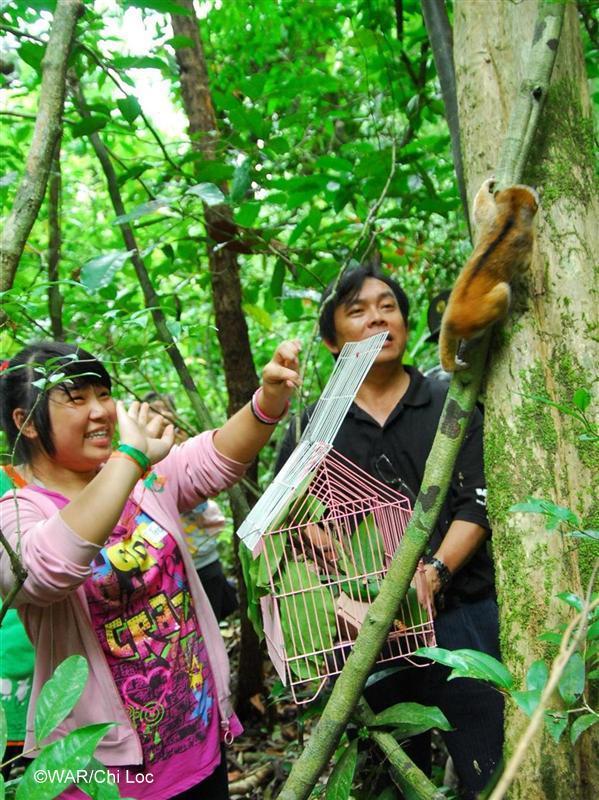 SOS Travelling Exhibition
The SOS Travelling Exhibition that is a tent of 60m2 was conducted by WAR with strong support from the Ho Chi Minh City Department of Education and Training and the Ho Chi Minh City Forest Protection Department. The SOS exhibition aims to educate and urge the younger generation of Vietnam to save wildlife from the brink of extinction such as the Javan Rhino. Visiting the SOS Travelling Exhibition, students are taught all about the illegal wildlife consumption throughout Vietnam. The students are able to watch interesting video clips about wildlife product consumption, touch and interact with the exhibits, listen to endangered wildlife sounds, and participate in exciting games to win gifts from WAR. Please see photos of the SOS Travelling Exhibition here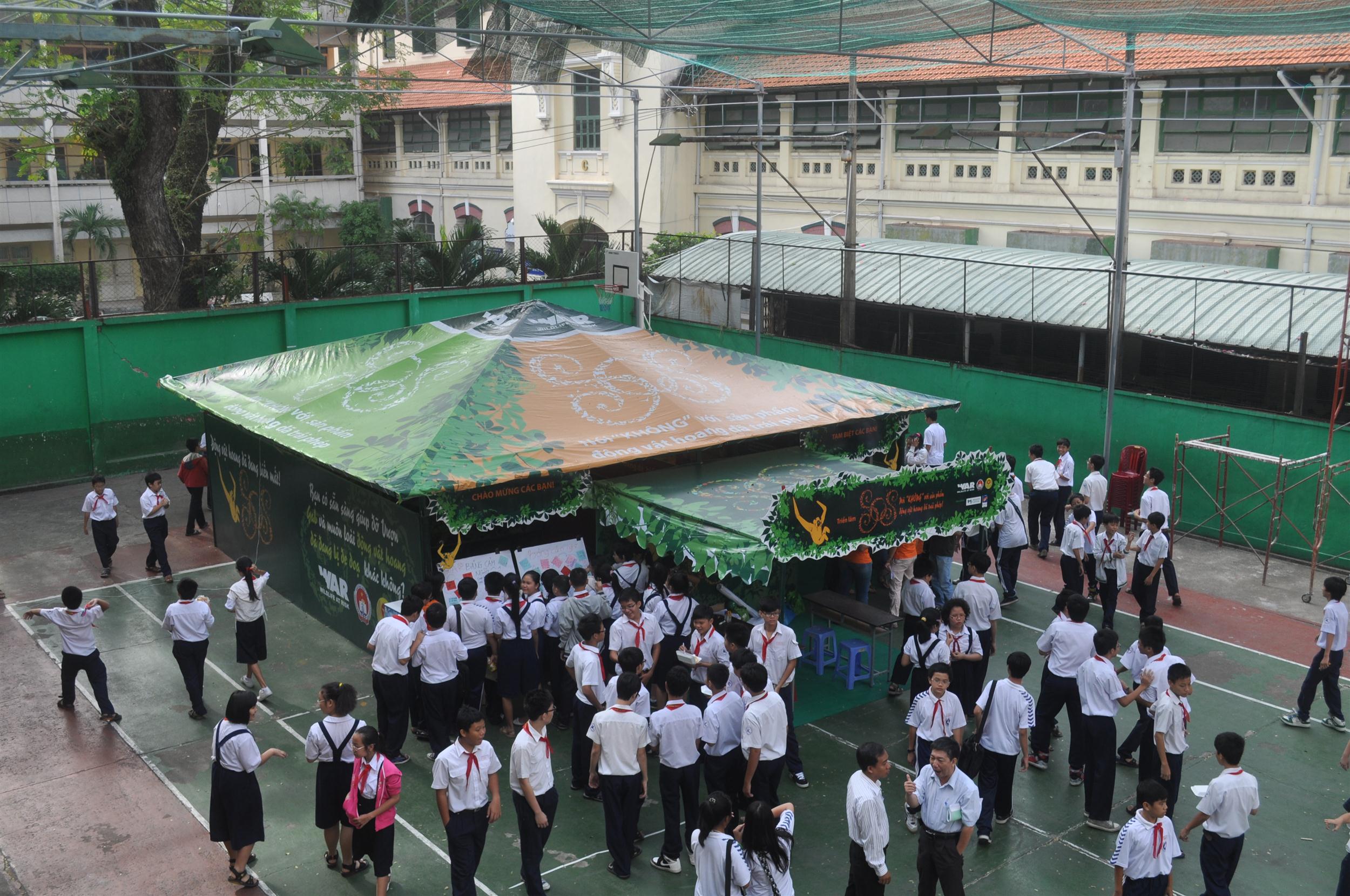 Field trips for students to visit the Cu Chi Wildlife Rescue Station or to witness how the animals are released back into the wild
WAR now has a visitor programme at Cu Chi Wildlife Rescue Station (WRS) that encourages students of all ages to visit the Station. Visiting Cu Chi WRS, the students will not only see and learn about the endangered animals, but can also help WAR staff to prepare food and to feed the animals. WAR is supporting to bring about 1000 students and teachers and approximately 200 headmasters and education staff from HCMC to explore the Cu Chi WRS. WAR also has a volunteer programme for schools and universities to assist with awareness raising and conservation in situ or ex situ. You can also visit other Wildlife Rescue Stations at Cat Tien National Park and Hon Me, Kien Giang province.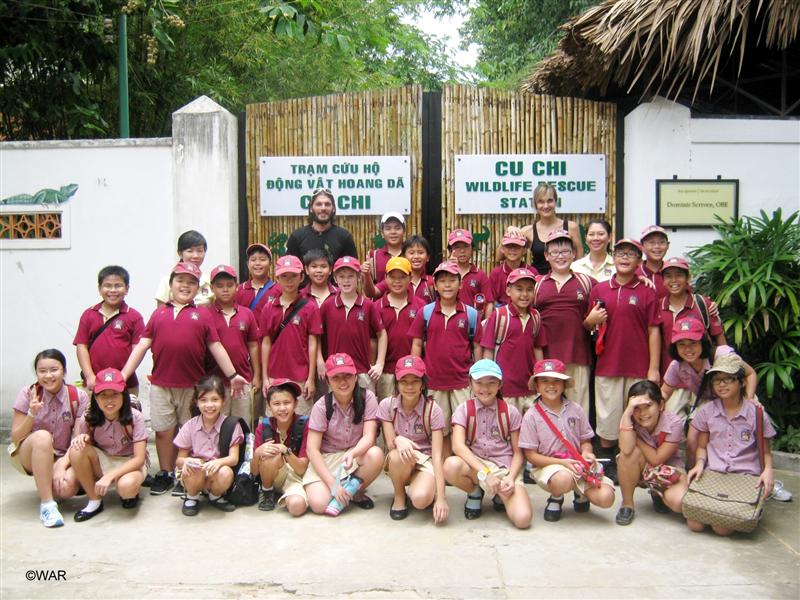 Green Clubs are an extra curriculum activity where children meet regularly to learn about nature and wildlife conservation through games and active learning activities. WAR develops and delivers training courses for teachers so that they are able to develop and conduct games and innovative activities at these Green Clubs. This is an effective activity for secondary school students both in the city or rural areas. An example for this programme is the "I love nature" club that is being operated under the cooperation between WAR and Khan Quang Do (Red Scarf) Magazine.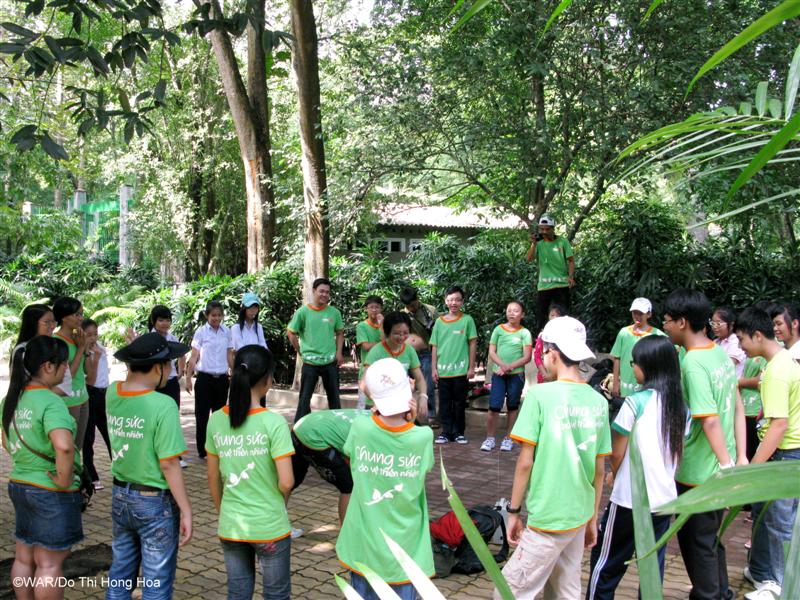 Student contests in exciting and creative forms. Depending on expectation and number of students participating, the contests will be designed in suitable forms such as game shows, quizs, drawing contests, and writing contests. Earlier this year, more than 400 students in HCMC participated in a quiz and game show to learn about wildlife, and more than 1000 students on Phu Quoc Island participated in a drawing contest about conservation in Phu Quoc National Park.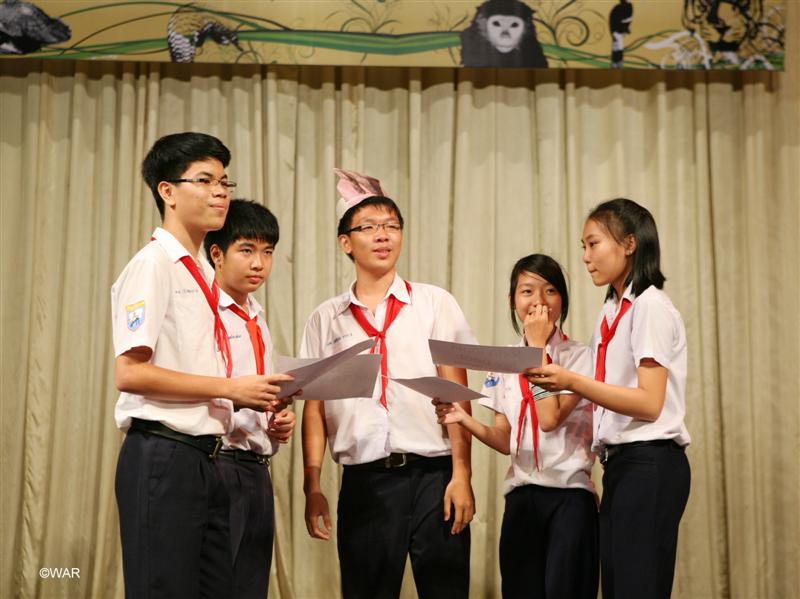 WAR Presentations to HCMC Schools
Depending on the school's request and the time available, WAR can deliver a presentation at local schools in English or Vietnamese on wildlife protection in Vietnam. Content of the presentation will be designed and updated from time to time, in order to meet the expectations of different schools. Normally, the presentations will last for one hour for secondary school students.
Some pictures of school programme, click here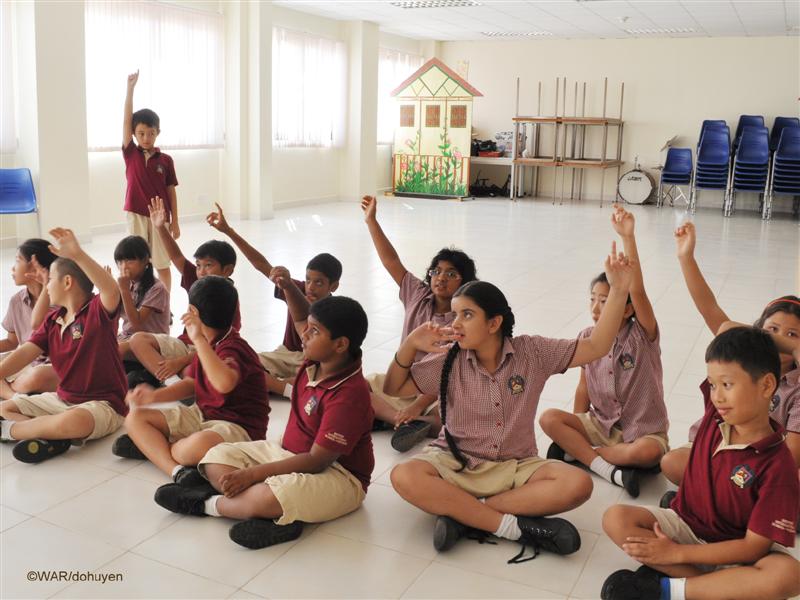 It's essential to raise public awareness and the awareness of policy makers on wildlife protection. This programme includes various communication campaigns and events for different stake holders. These meetings are covered by key media outlets to ensure that the message reaches a wider public. In early 2010, WAR conducted an event for more than 500 people at the Ben Thanh Theater, Ho Chi Minh City. WAR also joined Birdlife, the British Council and Nguyen Com Advertising to organise an event that encouraged people to speak up to save the forest. This event was participated in by 4000 people and was covered by all key media in Vietnam.
Some pictures of public programme, click here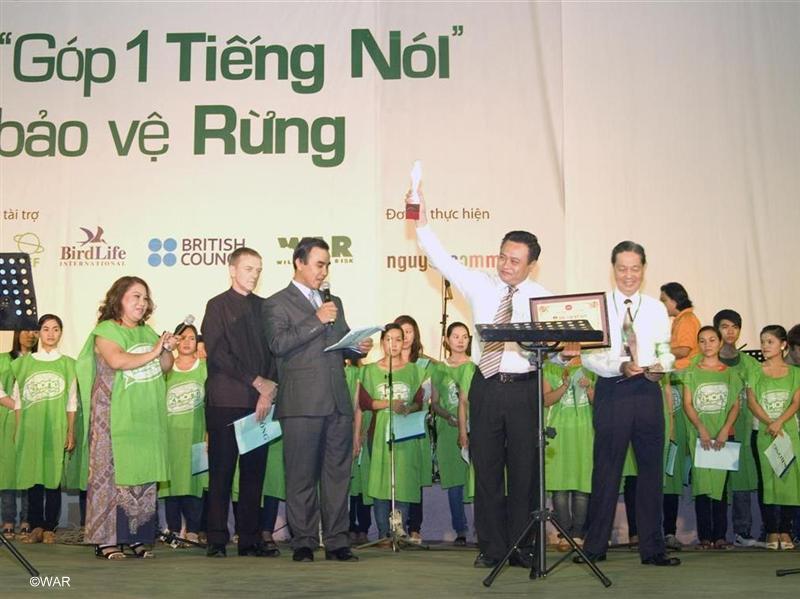 National Park and Protected Area Programme
National Parks and Protected Areas have a high biodiversity value and these areas are under various threats and need to be conserved. If the park staff is equipped with the necessary knowledge and skills, then they are able to educate stakeholders in order to help preserve nature. This programme involves various training courses for the Park's education and communication staff and rangers so that they are able to design, implement and monitor and evaluate Environmental Education (EE) activities for different groups such as school children and community members. WAR also provides consultation services for National Parks and Protected Areas in developing, implementing and monitoring environmental education programmes for various communities, students, visitors, policy makers and the public in general.
Some pictures of National park and protected area programme, click here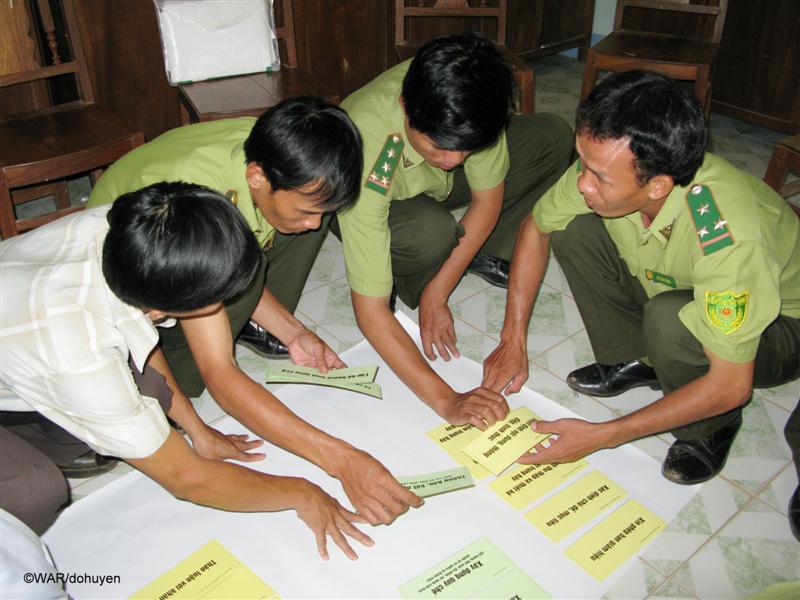 Educational material productions
Various education materials have been produced for different target groups such as T-shirts, caps, postcards, leaflets, photographic books, and poster campaigns.
Refer and download some educational materials, click here
How can you help the Wildlife Education Programme – WAR?
Here are some examples of how you can help WAR in its efforts to conserve the wildlife of Vietnam:
Fundraising activities (every contribution counts!)
Sponsoring a species
Naming an animal
Planting trees and food plants for animals
Designing and raising funds for the building of animal cages
Arranging annual schedules for visits to WAR's Wildlife Rescue Station