Ho Chi Minh City, 29 June 2011 – Wildlife At Risk (WAR) in cooperation with Khan Quang Do Magazine have conducted native fish releasing activity to Sai Gon River. Over 100 native fighting fish (Betta imbellis) were released to Ben Cat river, Binh Thanh District, a tributary of Sai Gon River. This activity was carried out by nearly 20 members of "I love nature" Club – aged from 12 to 15 and journalist in Ho Chi Minh City.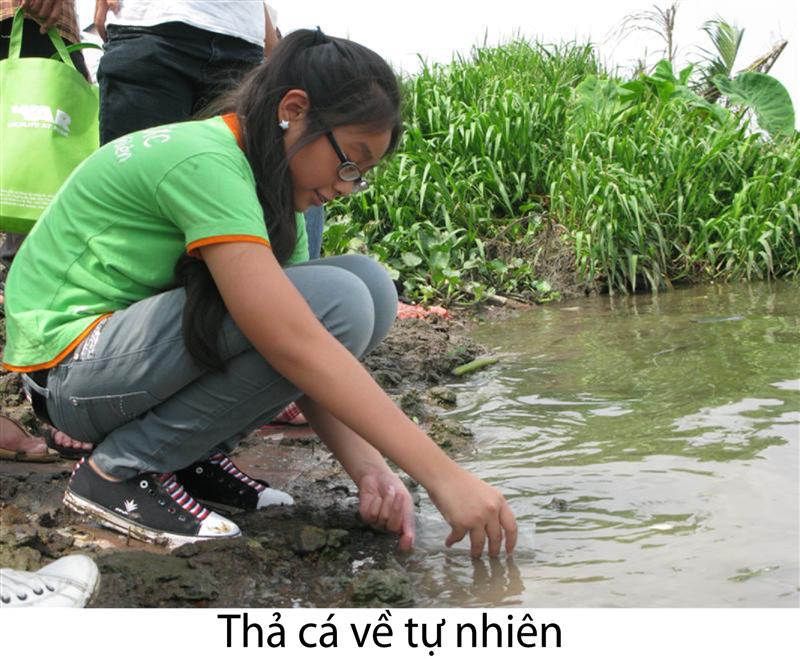 "Releasing native fish to the wild" is a periodical activity in the programme named "Breeding and release native fish back to nature" since February 2010 of WAR, aiming to raise awareness of students and residents about native species protection and contribute directly to nature conservation.
Mr. Bui Huu Manh, Conservation officer, said: "Ben Cat river is bigger than Cau Son canal which native fish were released before. This place is chosen to release fish in order to understand survival ability of this species in different habitat. This will be evaluated in the future."
Besides Betta spp., WAR also studies other native fish for the same purposes and encourages using them for aquariums.
In the future, WAR continues to conduct the programme. HCMC residents and students who are interested in releasing activity can contact us to receive native fish for aquariums, releasing or consultancy about useful information on wildlife releasing and conservation.