Ho Chi Minh City, 18th December 2011 – Instructed and supported by Wildlife at Risk (WAR), more than 20 members of the C4E (Cycling for Environment) Club rode bicycles to release native fishes to the wild. This activity aims to call for local people to use native fishes for aquariums and to contribute to repopulating this species. It also raises public awareness on energy saving and environmental protection.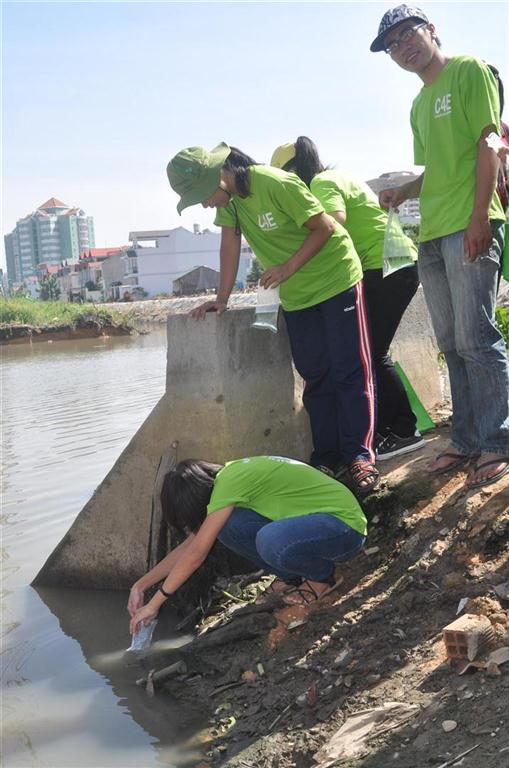 Started from Tao Dan Park, C4E members cycled through HCMC's major streets and visited WAR Office where native fishes were being bred. They carried slogans that drew attention of the public on utilisation of native fishes in aquariums, good luck releasing, as well as environmental protection. Over 250 native rasbora (Rasbora paviana) were released to a tributary of Sai Gon River under Cau Den Bridge in District 2. These fishes were bred in the programme titled "Breeding and release native fishes to the wild" that was partly supported by LIN (Center for Community Development).
Rasbora species are relatively common.This species of rasbora is able to live in seriously polluted water. It could also survive in small closed water sources during the dry season. As this fish feeds on organic matters, it is able to clean organic substances from domestic waste water.
According to Mr. Manh Bui Huu, Senior Conservation Officer – WAR: "For good luck releasing or home aquariums, people should use these native fishes instead of imported ones. This action contributes to repopulating native fishes. We are grateful that more and more residents of HCMC are contacting WAR for native fishes for their home aquariums."