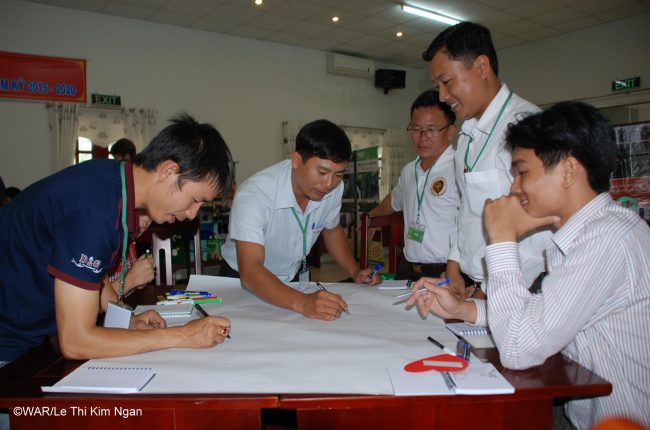 Dong Nai Province, dated 10 October 2015 –Wildlife At Risk (WAR) cooperated with Dong Nai Culture Nature Reserve organised a training course entitled "Environmental Educations for National Parks and Protected Areas of Vietnam". Lasted for six days from 5 to 10 October 2015, the state-of-the-art training course aimed to raise capacity of environmental educators on educating teachers and students, tourists, local communities, leaders and public in general on nature conservation. The course provided a great forum for sharing environmental education (EE) experiences amongs National Parks (NP) and Protected Areas (PAs). In additions, the training course provided financial supports to some participants to impement their excellent EE initiatives at their NPs and PAs. The training course was funded by the Buck Kingsman Small Grant from Colledge of Natural Resources – University of California Berkeley.
Participated in the training course was nearly 30 environmental educators from 20 NPs and PAs in the South and Central Highland of Vietnam. All of them have at least three years of experience on EE. Some of them held high position in their NPs or PAs.The training course was designed and delivered by Ms. Huyen Do Thi Thanh – WAR's Wildlife Education Manager and Ms. Susan Lynn Carpenter – professor from Colledge of Natural Resources University of California, Berkeley, USA. The trainers have rich experiences in training on EE, leadership and environment mediation. Especially, Ms. Susan Carpenter voluntarity participated in designing and delivering this training course.  The training programme was carefully developed to meet specific needs of environmental educators from NPs and PAs of Vietnam. With the learner centered approach, the training course included a serial of creative and active learning activities those encouraged participations from every participant. A few study tours and field trips were also included to comfort the experience sharings such as the study tour to Cu Chi Wildlife Rescue Station and Cu Chi Tunnel for participants to learn about EE for tourists and endangered wildlife rescuing activities. At the Dong Nai Culture and Nature Reserve where the training course was organised, the participants took part in a field trip to the forest to learn about EE for students and tourists, joined a community club to learn how to organise EE for local people and visited EE activities for secondary school students . One highlight of the traing course was collaborative leadership content that  helped participants to become a more effective leader when coming back to their NPs and PAs. Right after the course ends, three best small projects with a total budget of up to approximately 2,500 USD will be awarded to three NPs and PAs in order to educate children, teachers, local people and tourist on nature conservation.
According to Mr. Tran Van Mui – Director of the Dong Nai Culture and Nature Reserver: "Environmental Education is one important function of every NPs and PAs in Vietnam. Currently, EE is implemented in quite a few NPs and PAs. However, there are not many opportunities for Environmental Educators from NPs and PAs to learn and share their experiences such as this training course. We expect that EE experience sharing will be  continued ways after the course ended.".Ms. Huyen Do Thi Thanh  – WAR's Wildlife Education Manager confirmed that: "Currently, there is almost no official EE course in Vietnam. All EE staff learn about EE through their jobs. This training course is a special opportunity to hand on experiences, skills and tools in order to improve effectiveness of EE in NPs and PAs in Vietnam. We expect that every people who work on EE will be connected in order to be more effective in their EE works and thus contri bute greater to the nature of Vietnam"."This training course is especially useful and practical. Everyone who works on EE in Vietnam should participate. I've come up with quite a few new ideas those I will definitely apply to my jobs" – excitingly shared by Ms. Tang Thi Thu Huong – Deputy Manager of the Centre on Environment Education Communication and Ecotourism – Binh Chau Phuoc Buu Nature Reserve – a participant of the training course.
After the training course, participants will keep sharing their experience within the network. They will also get further supports from WAR in implementing EE activities. WAR will also seek for financial supports inorder to conduct similar training courses for other NPs and PAs in Vietnam