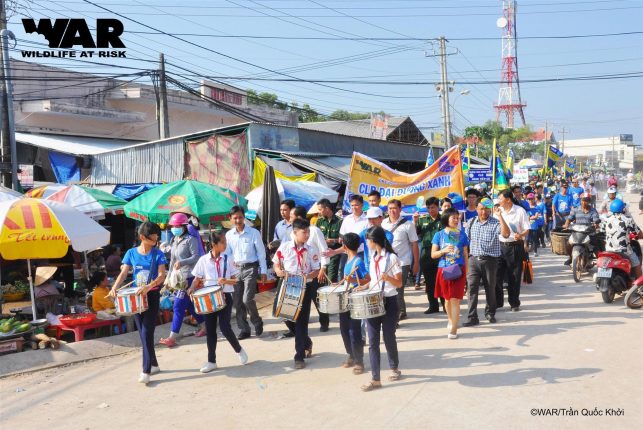 Phu Quoc Island, dated 27th December 2015 – Wildlife At Risk (WAR) cooperated with Phu Quoc Marine Protected Area to organise the Dugong Festival 2015 at Ham Ninh, Phu Quoc island. The event aims to to raise awareness and gain the attention of leaders, students and teachers, locals and tourists for the protection of Dugong and endangered marine creatures. Unlike previous festival, the Festival this year lasted for one full day at Ham Ninh Habour and Duong Beach, Ham Ninh Commune, Phu Quoc Island.
Participated in the Festival was approximately 700 participants including Phu Quoc leaders, teachers and students, local people and tourists. The Festival started with a parade from Ham Ninh Commune to Ham Ninh Habour – a famous tourist spot on Phu Quoc Island and finished back at the Ham Ninh Commune. The parade was a successful and exciting event supported by the participation of locals and tourists alike.
After the parade, approximately 200 secondary school students who are members of six WAR's Marine Conservation Clubs throughout Phu Quoc Island, including Ghenh Dau, Bai Thom, Ham Ninh, An Thoi, Duong Dong 1 and Hon Thom, took part in a serial of contests and exciting acitivities at Duong Beach, Ham Ninh Commune, for the rest of the day.
In addition to the parading, highlight activities of the Festival included a contest on Dugong Sand Sculture, Photo contest and Marine knowledge contest. Each Club created a model of real size Dugong on the Duong Beach. All the models were so lively and atractive, which showed good knowledge of the students about the endangered creature. Each Club also displayed a set of roughly 20 to 60 photos created by the students through the year round. The photos show beauties and threats to Phu Quoc Marine. The Marine Knowledge Contest with a simple but exciting format was exciting for every single participant at the Festival. Many prizes were awarded to individuals and groups for their great products or performance during the Festival.
According to Ms. Do Thi Thanh Huyen – WAR's Wildlife Education Manager "The Dugong Festival 2015 with many exciting and creative activities became an unforgetable memory for each participant, which encourages them to take part in protecting Dugong and Phu Quoc Marine. We expect that each people take at least one practical action to protect Phu Quoc marine resources in particular and Vietnam's marine resources in general so that our future generations could still benefit from the bountiful sea".
All participants also commited to protect Phu Quoc Marine by creating a Dugong and a sea turtle on large canvas. This festital is one activity of the project entitled "Conservation of Dugong and Biodiversity of Phu Quoc and Tho Chu island", being implemented since 2013 by WAR and Phu Quoc Marine Protected Area