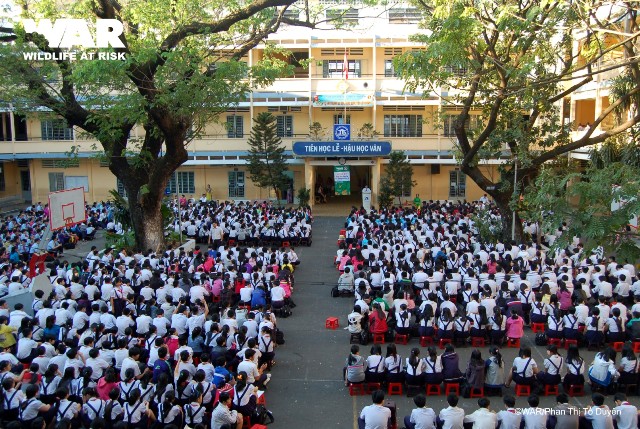 Ho Chi Minh City, dated 19th March 2016 – Over 200 children aged 12-15 years old, teachers and education managers actively participate in exciting contests and games at the Wildlife Protection Ceremony today at Tan Binh District Department of Education and Training (DOET). The ceremony organised by Wildlife At Risk (WAR) and Tan Binh District DOET aimed to raise awareness, encouraged participants to take part in wildlife protection and also consolidated extracurriculum activities on wildlife protection at Tan Binh District.
Participated in the ceremony were over 200 participants including leaders and staff of HCMC DOET, Tan Binh District DOET, education managers, teachers and students from 12 secondary school of Tan Binh District and WAR staff and volunteers. The 150 children participated in the ceremony are winners at their school's wildlife origami contest.
One highlight of the Wildlife Protection Ceremony was the District Widllife Origami Contest for all students and teachers from the 12 secondary schools. Each school created an origami model sized 50cmX100cm. Each model included a collection of wildlife origami and on each wildlife origami is one practical action that secondary school student could take to protect wildlife. The first prize was awarded to the wildlife origami model that is artistic, vivid, colourful and includes a collection of most positive and feasible behaviours toward wildlife. In addition, the ceremony also awarded two second prizes, three third prizes and six runner up prizes. 
Previous to the ceremony, twelve wildlife origami contests were successfully organised in the 12 secondary schools of Tan Binh District with the participation of over 17,000 children aged 12-15 years old, under the framework of extracurriculum activities supported by WAR. In each school, the contest was launched and consolidated in two separate Monday school meetings. Each of the school meeting is a wildife gameshow with various exciting wildlife games and knowledge contests. In addition, a big school bulletin on wildlife protection was also installed in each of the school in order to support students take part in wildlife contests.At the Ceremony, 12 schools's models created from hundreds of best wildlife origami products of the school contests were also displayed. The students also excitingly participated in the wildlife knowledge contest organised at the ceremony. Fifteenth best students were awarded at the knowledge contest too. In the beginning and before leaving the ceremony, all participants and students read out lout the pledge for wildlife protection. Each participant also showed their commitment to wildlife protection by takeing one photo with the pledge.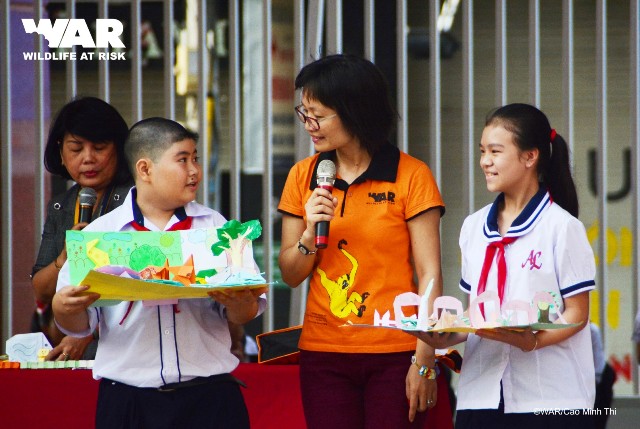 According to Ms. Do Thi Thanh Huyen – Wildlife Education Manager, WAR, "The Wildlife Protection Ceremony, together with a serial of extracurriculum activities are exciting playgounds where children learn about wildlife and be inspired to take part in wildlife protection. In additions, the extracurriculum activites connect children to practical wildlife consumption issues in their communities and thus evoke children to change. I believe that each of the dozens of thousands of students and teachers did find out the most appropriate and positive activities that they could take and will take to protect wildlife".
All wildlife origami models created in the ceremony will be displayed at respective secondary schools. This model not only inspires teachers and students on wildlife protection but also reminds them of what they could do and will do to contribute to willdife protection.
The Wildlife Protection Ceremony at Tan Binh District is one activity under the extracurriculum component of the SOS Programme that aims to educate children and teachers on Widllife Consumption through encouraging them to say NO to illegal wildlife products. The SOS Programme were created by WAR under cooperation with HCMC DOET and Forest Protection Department in Dec 2011. Under this extracuriculum component, WAR also supported 23 secondary schools in Cu Chi District and provided guidlines on intergrating willdife protection into extracuriculum activities to all approximately 300 secondary schools of HCMC