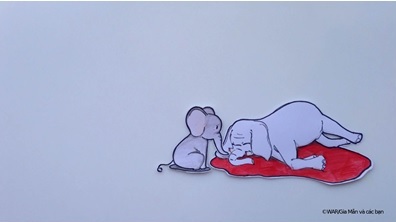 Ho Chi Minh City, dated 12 June 2015 – Wildlife At Risk (WAR) and Douc Langur Foundation (DLF) announcedthat 40 excellent university students from Ho Chi Minh City, Hanoi Capital, and Vung Tau and Can Tho provinces have been chosen for the Wildlife Summer Camp 2015 – Connecting youth to wildlife conservation. And the Wildlife Summer Camp 2015 will be organised from 18 to 22 June 2015 at WAR's Hon Me Wildlife Rescue Station, Kien Giang Province in the Mekong River Delta.
With the theme "Scattering of love", the Wildlife Summer Camp 2015 will encourage and connect the youth to wildlife conservation through a serial of practical and interactive activities such as preparing food and feeding wildlife, cleaning wildlife enclosures, growing food plants for rescued wildlife, painting wildlife's enclosure, and distributing leaflets to local people. The campers will also learn different skills related to wildlife profession such as photography, camera trap setting up, forest surveying, a few social skills and other recreational activities!
Of the 40 selected campers, 10 from Ho Chi Minh City and Vung Tau Province are either best WAR's volunteer students or won a WAR's contest previously, and 30 from Ho Chi Minh City, Hanoi Capital and Can Tho Provinces are w inners of the contest on short video clips and short writing. The contest that was launched by WAR from 22 April to 22 May 2015, requested contestants to submit a short video clip or a short writing aiming to call for youngsters to take part in wildlife protection. These winners show their special interest and enthusiastic in wildlife protection through their creative and attractive video clips or writings. Some of the best video clips could be found on WAR website at www.wildlifeatrisk.org.
According to Ms. Do Thi Thanh Huyen – Wildlife Education Manager, WAR, "We were so surprised with the strong interest toward wildlife protection that the contestants showed through their video clips and writings. Some video clips have very good quality and are totally creative. Those products are created by vivid imagination and enthusiastic of the youth toward the nature and wildlife. This is a strong motivation for us to develop and prepare for a special Wildlife Summer Camp 2015. This camp will be unique. It will include a serial of stunning practical activities those move the camper's hearts and encourage them to take action toward wildlife.
Wildlife Summer Camp 2015 – Connecting youth to wildlife conservation is an annual camp launched by WAR in June 2013. The programme organised in one rescue facility of WAR, aims to create an unique opportunity for university students to learn and to experience practical jobs related to wildlife professions. Over 70 students from different university in Ho Chi Minh City participated in the previous Camps. They all highly appreciated the camp and showed their strong passon to the programme and wildlife protection. After the camp, many of them took  volunteer jobs on wildlife or environment protection while studying, and some of them worked on wildlife protection after graduated.
Download the press release here
Link to clips of the contest for camper selection for Wildlife Summer Camp 2015
Hãy Bảo vệ Tê giác – Let's protect rhino (here)Created by Nguyễn Huy Bồng, University of Natural Sciences, Ha Noi National University.
Ngày mai – Tomorrow (here)Developed by: Nguyễn Gia Mẫn, Vương Khánh Linh, Nguyễn Thiện Phúc, Nguyễn Thị Thảo Nhi – University of Finance and Marketing, Ho Chi Minh City
Bảo vệ rùa biển – Protect Sea turtle (here)Created by Tang Quoc Tuyen, University of Ariculture and Forestry, Ho Chi Minh City.