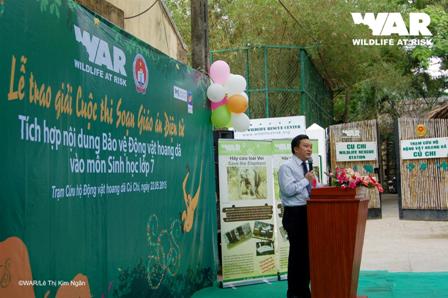 Ho Chi Minh City, dated 22 May 2015 –On the occasion of the International Day for Biological Diversity 2015, Wildlife At Risk (WAR) and the Ho Chi Minh City Department of Education and Training (DOET) organised an awarding ceremony of the contest on developing power point lectures for any lesson that includes wildlife protection content of Biology Subject Grade 7. The awarding ceremony was organised at Cu Chi Wildlife Rescue Station in order to award best power point lectures those include wildlife protection content and to celebrate the International Day for Biological Diversity 2015.
Participated in the ceremony were over 50 participants including leaders and staff of HCMC DOET, HCMC District DOET and other bodies, awarded teachers and WAR leaders and staff.
The 38 best power point lectures were awarded at the ceremony. Those lectures not only meet curriculum learning objects but also intergrate wildlife protection content in an attractive and effective manner. Those lectures are also creative and feasible.From 22 August 2014 to 20 April 2015, the contest received over 300 power point lectures from 19 districts of Ho Chi Minh City. The lectures cover all key lessons of Biology Subject Grade 7 those including priority animals for conservation such as insects, fishes, reptiles, amphibians, birds and mammals. All the contested power point lectures were delivered to the students before registering for the contest. According to Ms. Do Thi Thanh Huyen – Wildlife Education Manager, WAR, "It's really hard for us to judge the contest as many contested lectures are so good, so creative and carefully designed. Each lecture includes numerous active learning methods with many live photos and video of the wildlife. This is so special and more attractive than a normal lesson. I believe that any class with any awared lecture is an exciting and interesting experience for both studens and teachers".
"The contest was a great opportunity for each teacher of Biology Subject Grade 7 to take part in wildlife protection through delivering wildlife content in effective and interesting methods. We are commited to strongly support wildlife education activities for the students in order to contribute to biodiversity conservation of Vietnam", said Mr. Nguyen Van Hieu – Vice Ditector of HCMC DOET.
After the awarding ceremony, leaders and teachers also visited endangered wildlife those are rescued at Cu Chi Wildlife Rescue Station. Every people were moved with different stories about jouneys of endangered wildlife such as the bear losing paws, the elongated tortoises born at the station and etc. 
To celebrate the International Day for Biological Diversity 2015, all participants also pledged not to consumme illegal wildlife products by signing on the model of Gab – a gibbon that is ambassador of the SOS programme.In next academic year, the awarded lectures will be shared among all secondary schools in Ho Chi Minh City. This will be a great asset for Biology Subject teachers to refer and to deliver lectures those contribute to wildlife conservation in Vietnam.
The contest is one activity of the SOS Programme launched in Dec 2011 by WAR, HCMC DOET and HCMC Departmnet of Education and Training. The SOS programme aims to educate students on wildlife consumption through encouraging them to say NO to illegal wildlife product.
Download the second press release here and more pictures here