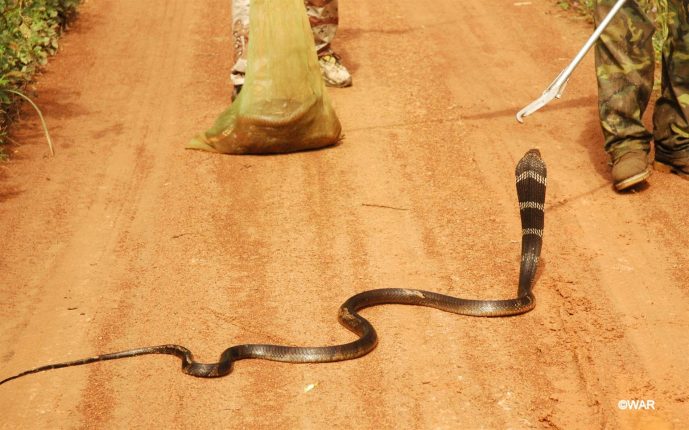 Snake is one of the most frequent consumed wildlife in Vietnam. Many snake species are in the brink of extinction due to illegal hunting for alcoholic drink and bush meat. Fortunately, hundreds of endangered snake individuals have been successfully rescued by Cu Chi Wildlife Rescue Station (WRS) that is managed by Wildlife At Risk (WAR) and Ho Chi Minh City Forest Protection Department. On the occasion of the New Year of the Snake, Mr. Lam Le Xuan – Manager of Cu Chi WRS reveals interesting stories related to snake rescuing.
How long have you been working for Cu Chi WRS? 
I have been working for Cu Chi WRS for six years since the Station was upgraded and supported by WAR.
| | |
| --- | --- |
| | |
| Mr. Lam Le Xuan – Manager of Cu Chi Wildlife Rescue Station and the mutated Radiated Rat Snake. | A King Cobras is being released to the forest of Cat Tien National Park |
Among more than 3000 endangered wildlife individuals rescued and released by Cu Chi WRS, how many snakes have you rescued?
A few hundreds of endangered snakes have been successfully rescued. Only in 2012, nearly 80 individuals of nine species were successfully released back to the wild; including critically endangered species such as King Cobra, Kraits, Monocellate Cobra, and Asian Cobra…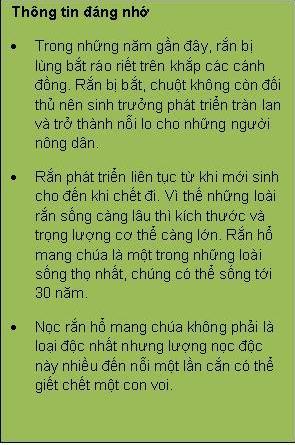 Where did those snakes come from?
Like other rescued wildlife at Cu Chi WRS, most of those snakes were seized from illegal trading and transporting by ranger bodies. Some of them were handed voluntarily by local people and pagoda in HCMC. Most of the snakes were exhausted; many have disease, mouth sealed or scales lost. 
Where did the snakes released after being rehabilitated?
The rehabilitated snakes were released to its suitable habitats in strictly protected forests of national parks and protected areas.
What is the heaviest snake that you have rescued?
That is an individual of King Cobra handed by Hoang Phap pagoda in early 2012. It weighs 14kg. 
What is the longest snake that you have rescued? 
It's an individual of King Cobra that was seized from an illegal trade. It's 5.2m length.
What is the most impressive rescued snake for you?
In December last year, we rescued a very strange snake. Its skin was totally white. We know that it's a Radiated Rat Snake. The white skin could be a type of gene mutation because the species normally has yellow skin.
What is happening to wild snakes?  
Snakes are often hunted and killed for alcoholic drink and meat. In addition, due to habitat destruction, snakes had to seek for other suitable quiet homes in pagoda, temple, and house and grassland in civil areas. Thus they are chased and killed. This pushes many endangered snakes to the brink of extinction.
What do you want to tell people about snake protection in the year of the snakes?
In special occasions such as Lunar New Year Festival, snake and other endangered wildlife are often consumed. I hope that people will celebrate the New Year of the Snake in a manner that doesn't harm the snakes at all. Let's join WAR protect endangered snakes before it's too late!
Huyen Do – Lam Le Xuan