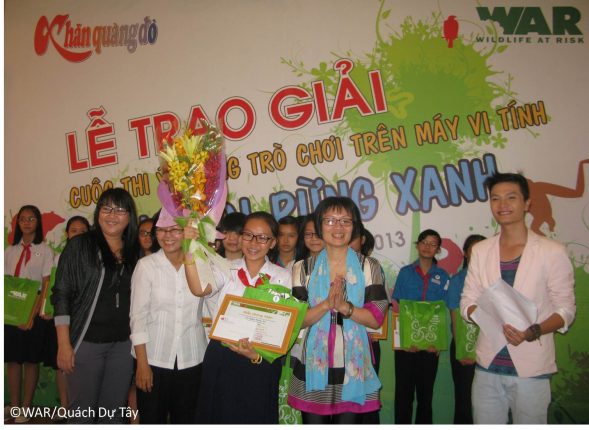 Ho Chi Minh City, dated 13rd January 2013 – Wildlife At Risk (WAR) cooperated with Khan Quang Do magazine to award 17 best ideas for computer games of the contest entitled "Call of the Forest". This awarding ceremony is to praise the best game ideas and to raise awareness of children and the public of endangered wildlife in Vietnam.
Participated in the ceremony were approximately 200 people including secondary school children, members of themed clubs from Khan Quang Do magazine, representatives of Ho Chi Minh City Forest Protection Department, District Department of Education and Trainings, conservationists, leaders and staff of WAR and Khan Quang Do magazine, and media.
Focusing on protection of endangered wildlife, the contest that lasted for three months from 5th September to 30th November 2012 had received over 400 ideas from children aged 11-15 years old in Ho Chi Minh City.The first prize was given to Anh Nguyen Phuong, a 14 years old girl from Nguyen Du Secondary School, Ho Chi Minh City with the idea titled "Hero of the forest". In this game idea, the players have to quickly identify and eliminate threats to wildlife. The game not only educates players about threats to wildlife but also encourages them to take positive actions toward wildlife protection. This exciting game was also played at the ceremony.
According to Mrs. Huyen Do Thi Thanh, WAR's Wildlife Education Manager: "This contest creates an opportunity for children to learn and act for wildlife in the way that most children like i.e. computer games. WAR hopes that children will love the computer games developed from those ideas, and through playing those games, they will have better understanding of wildlife and willing to act to save the nature."
"Through innocent and creative eyes of children, wild nature was captured in a vivid way in those game ideas. The computer games developed from those ideas will be educative exciting and attractive for secondary school children", said Mr.Cuong Nguyen Khac, Editor in Chief of Khan Quang Do Magazine.In the coming time, some computer games developed from those ideas will be uploaded onto website of WAR and Khan Quang Do magazine.
These games will help to create a healthy playground for the children toward the wildlife protection.Please download the press release here.
To view some photos of the ceremony, please click here.