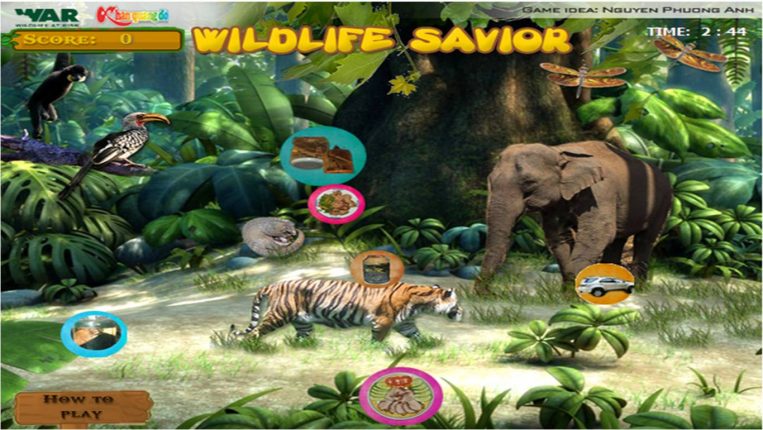 Ho Chi Minh City, dated 22 May 2013 – On the occasion of the World Biodiversity Day 2013, Wildlife At Risk (WAR) and Khan Quang Do magazine launched two computer games on wildlife protection for the public in general, especially children aged 12-15 years old. These two games titled "Wildlife Savior" and "Guess my name" are developed from the awarded ideas of the contest on Initiating computer game idea entitled "Call of the forest", organised by WAR and Khan Quang Do Magazine from September to November last year.
Game "Wildlife Savior" is developed from the first prize idea of Nguyen Phuong Anh, 14 years old girl. This game helps players to identify threats to wildlife as well as positive actions that everyone should take to save wildlife. In this three minute game, players need to quickly eliminate objects representing threats to wildlife. Message of the game is strengthen by the song titled "NO" that gained Vietnam Record for the "Biggest chorus in Vietnam" (Campaign "Speak up to save the forest", 2010).
| | |
| --- | --- |
| | |
| Guess my name | Wildlife Savior |
Game "Guess my name" is developed from the runner up prized idea of Nguyen Dang Khoa, 14 years old boy. In this game, players look at photos of wildlife in the wild and guess common names of the wildlife. The game helps players identify wildlife and thus encourages love to wildlife and nature. Happy music of the game supports players to imagine of a beautiful wildlife world.
The two games are now available on WAR's website in both English and Vietnamese at following links.
"WAR believes that computer game – one of the most favourable entertainments among youngsters, is an effective way to connect the youth to wildlife world. The two games help players to learn about wildlife and thus encourage their love to the nature and evoke commitment to nature protection", said Ms. Huyen Do Thi Thanh – Wildlife Education Manager, WAR.
In the coming time, more computer games will be developed and uploaded onto WAR website. Let's play these educational games and join WAR save Vietnam's endangered wildlife.
Please see press release about the two games here.