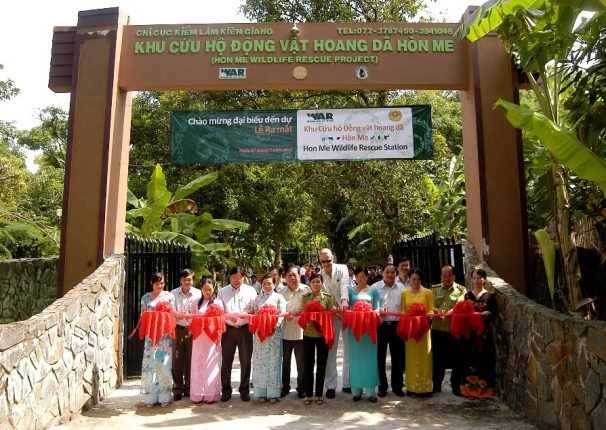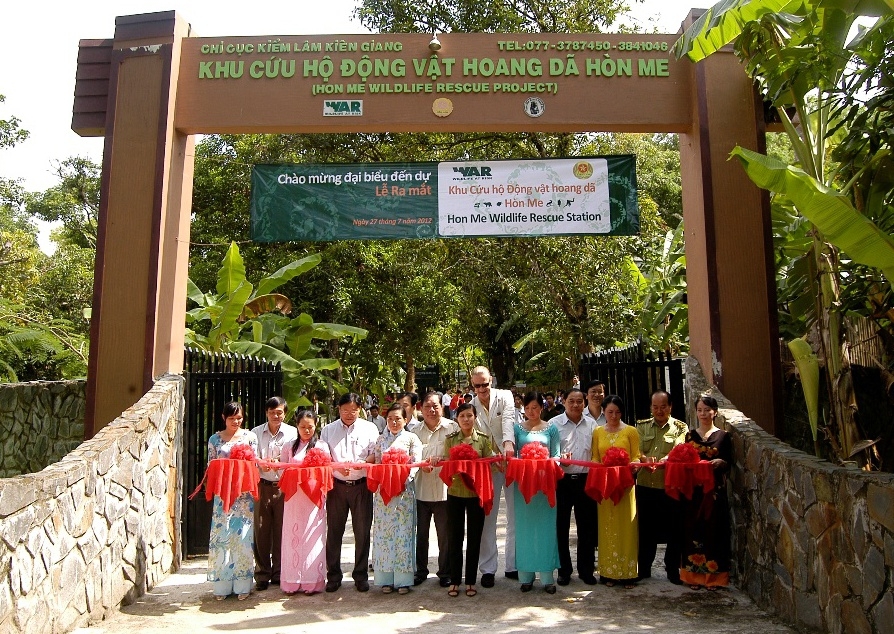 Kien Giang, 27 thJuly 2012 – Wildlife At Risk (WAR) successfully inaugurated Hon Me Wildlife Rescue Station (WRS) in cooperation with Kien Giang Provincial Forest Protection Departments (FPD), and Kien Giang Union of Friendship Organisation. With a total area of three hectares at Hon Dat District, Kien Giang Province, Hon Me WRS rescues bears and endangered wildlife species of Mekong Delta region. At the Station, rescued wildlife will be taken good care and rehabilitated by WAR staff before being released back to the wild.
Attended the inauguration ceremony were more than 50 participants from The Center of Region Three of the Viet Nam Forest Protection Department, People's Committee of Kien Giang Province, Kien Giang Union of Friendship Organisation, HCM C and Kien Giang Provincial FPD, Southern Office of the Convention on International Trade in Endangered Species of Wild Fauna and Flora (CITES), People's Committee of Hon Dat District – Kien Giang Province, Phu Quoc and U Minh Thuong National Parks, related bodies of Kien Giang Province, WAR, local residents and media. Also attended at the ceremony was representative of the main donor i.e. the Dragon Capital, and WAR's Trustee.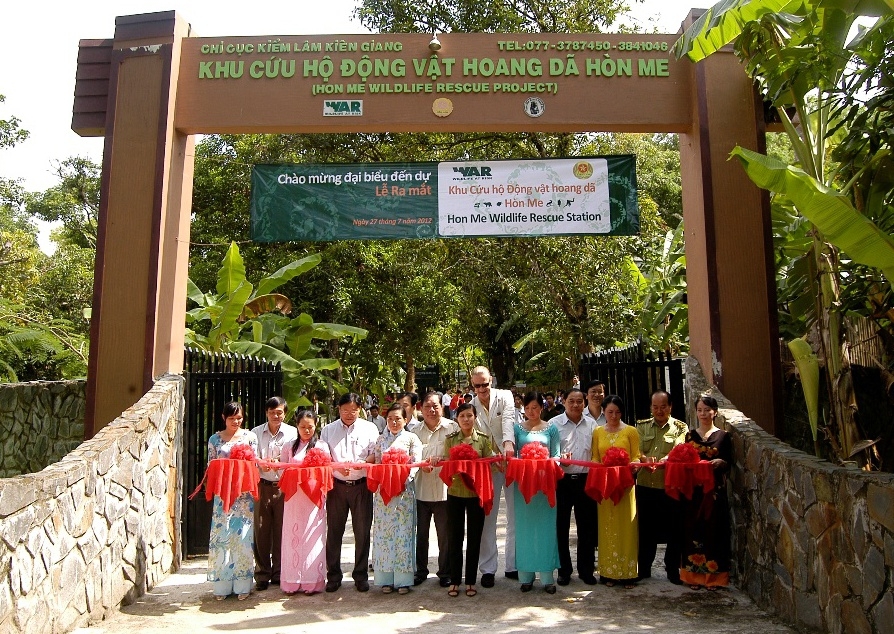 Cutting the inauguration ribbon at the ceremony
Hon Me WRS is one of three rescue stations managed by WAR including Cu Chi WRS, Cat Tien Bear and Wild Cat Rescue Station and Hon Me WRS. Hon Me WRS was established according to the project entitled "Construction of Bear Rescue Station" implemented by WAR, Free the Bear and Brigitte Bardot Foundation during the period of 2008-2010. Since January 2011, the Station was officially named "Hon Me WRS" that was directly managed by WAR in collaboration with Kien Giang provincial FPD.
Currently, more than 50 individuals of 15 endangered species are being rescued at Hon Me WRS including Moon Bear (Ursus thibetanus), Sun Bear (Ursus malayanus), Yellow-checked Crested Gibbons (Nomascus gabriellae), Pygmy Loris (Nycticebus pygmaeus), Giant Asian Pond Turtle (Heosemis grandis) and Elongated tortoises (Indotestudo elongata). Most recently on July 13th, the Station received a Leopard Cat (Prionailurus bengalensis) for the first time, from a local people who voluntarily handed it. In the coming time, this station is going to rescue other species such as snakes, turtles, and small carnivores.
According to Mr. Le Thanh Binh, Manager of Kien Giang Provincial FPD: "The operation of Hon Me WRS meets the urgent need of wildlife rescue in the Mekong Delta region and is in line with the conservation plan that includes eco-tourism development and conservation education of Hon Dat district, Kien Giang province. We are totally committed to support WAR in operation of Hon Me WRS in order to contribute to the conservation of endangered wildlife."
"The infrastructure improvement of Hon Me WRS so that it is able to rescue different wildlife species is one effort of WAR to protect endangered wildlife from extinction. The strong supports and cooperation of related bodies are fundamental for the operation of Hon Me WRS. We believe that with this cooperation, more and more wildlife will be successfully rescued in the coming time." – said Mr. Dominic Scriven, WAR's Trustee.
WAR is grateful for valuable supports from individuals and organisations in saving Vietnam's unique wildlife.
Please download the press release here.
Please see more photos of the inauguration here.