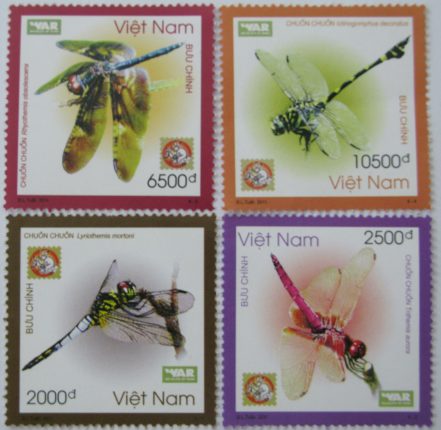 Ho Chi Minh City, 11 July 2011 – Under the technical support of Wildlife At Risk (WAR), Vietnam Post published Vietnam dragonfly stamp sets including four samples on post net at home and abroad.
This activity introduces the public about dragonfly species – these insects are abundant and are native to Vietnam with nearly 300 species found throughout the country (According to Do Manh Cuong, 2011); but they also contribute to raise the public's awareness on wildlife protection and conservation for Vietnam.
The four dragonfly species on the published stamp sets were recorded on Phu Quoc Island. Among them, two new species called: Lyriothemis mortoni and Rhyothemis obsolescens were discovered by WAR in 2007. These two species had not been recorded before in Vietnam.
Mr. Nguyen Vu Khoi, CEO, Wildlife At Risk stated: "Besides Phu Quoc Island, Vietnam is home to many plants and animals that are unique to this region. Therefore, we must work together to protect our wonderful wildlife and their habitats. These dragonfly stamp sets that were published on post net at home and abroad will help promote the discoveries about biodiversity in Vietnam and create a database for wildlife conservation and wildlife education."
In the future, WAR will release more photos and results about the biodiversity found throughout Vietnam to help educate the public through conservation activities.
"Support WAR save Vietnams' unique natural resources!"
To download Press Release, click here.
See more pictures of these dragonfly species at:www.wildlifeatrisk.org/album/18/vietnam-dragonfly-stamp-sets-published/