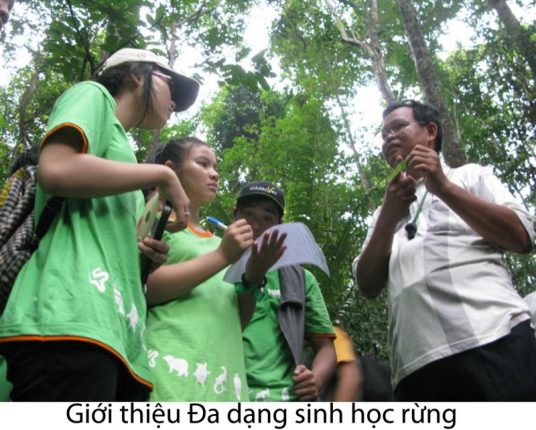 Ho Chi Minh City, 8th July 2011 – Wildlife At Risk (WAR) in cooperation with Khan Quang Do Magazine successfully conducted a one-day trip titled "Discovering nature of Dong Nai Culture-Nature Reserve (Vinh Cuu)". More than 25 members of the "I Love Nature" Club and "Young Media" Club – aged 12 to 15 years old, journalists from Dong Nai and Ho Chi Minh City (HCMC) and volunteer students from University of Science, HCMC joined this trip.
The main aim of this trip was to encourage their love for nature; increase their awareness and knowledge about nature of the Dong Nai Culture-Nature Reserve in particular as well as create chances for members of clubs to experience, study and join in protecting wildlife and nature. They looked for animal signs with a magnifying glass, learn about forest ecosystems and discovered the biodiversity of the "Central Bureau of Southern". Students also visited the forest arboretum where they studied the importance of forest recovery and function of the arboretum. The students were interested in the plant species grown here and understood the efforts of Dong Nai Culture-Nature Reserve in forest protection and species recovery.
The students also visited the museum and heroes cemetery at the Central Bureau. Most students were moved when they listened about the arduous war of the heroes who fought to protect Vietnam. One of the activities, which students learned to protect Vietnam, is to contribute to wildlife and nature protection.
The one-day trip to discovery nature of Dong Nai Culture-Nature Reserve is part of the program titled "Take part in nature protection" by WAR and Khan Quang Do Magazine that was developed in June 2010 for student's aged 11 to 15 year olds from "I Love Nature" Club and "Young Media" Club. They joined the two-day trip to discover the nature of Cat Tien National Park, visited the Cu Chi Wildlife Rescue Station, participated in releasing wildlife back to the forest and became young communicators for their schools learning how to write articles related to protecting Vietnams' nature.