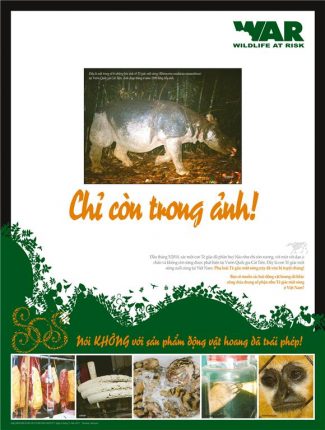 Ho Chi Minh City, 28th November, 2011 – Wildlife At Risk (WAR) in collaboration with Ho Chi Minh City Department of Education and Training and Ho Chi Minh City Forest Protection Department announces that the "SOS traveling exhibition – Education on wildlife product consumption" will be officially launched on Saturday 3rd December 2011, at Minh Duc Secondary School, Ho Chi Minh City. There will be roughly 500 delegates and students attending this special launching ceremony.
With the important message, "Say no to illegal wildlife products", the SOS travelling exhibition provides children aged 12 – 15 years old with useful knowledge and astonishing information related to the consumption of wild animal products, thereby directing and urging the students to act and help Vietnams' endangered wildlife before it is too late. This exhibition is developed based on the results of the residential and secondary school student survey on consumption of wild animal products in Ho Chi Minh City" that was released by WAR in May 2011.
According to Ms. Huyen Do Thi Thanh, Wildlife Education Manager, WAR "The SOS travelling exhibition is a professionally designed tent measuring roughly 60m2 including many attractive models, photographs, objects, sounds, movies and games. Children visiting the SOS educational tent can not only see but also hear, touch and interact with the exhibits and games. Helping guide and interpret information during the exhibition are more than 20 trained active volunteers studying at various universities throughout Ho Chi Minh City".