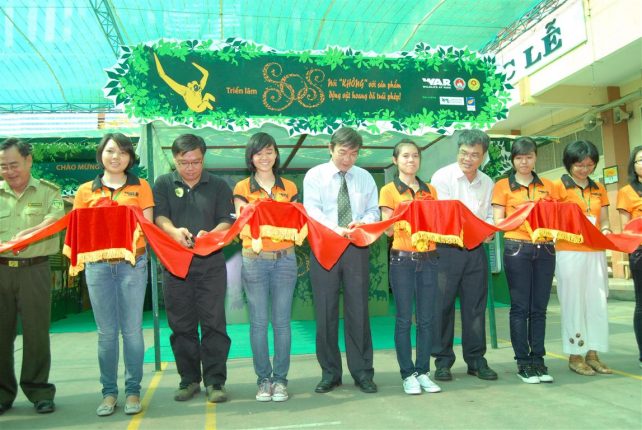 Ho Chi Minh City, 3rd December, 2011 – Wildlife At Risk (WAR) in collaboration with Ho Chi Minh City (HCMC) Department of Education and Training, HCMC Forest Protection launch the "SOS traveling exhibition – Education on wildlife product consumption" at Minh Duc Secondary School, District 1. The launching ceremony not only officially launches the SOS traveling tent but also urges leaders, students and participants to act to help Vietnams' wildlife that faces possible extinction such as the Javan Rhino.
More than 500 people participating in the launching ceremony are included leaders of HCMC Department of Education and Training, HCMC Forest Protection Department, representatives of Department of Education and Trainings from all districts of HCMC, administrators from HCMC Secondary Schools, teachers and students representing Minh Duc Secondary School, Wildlife At Risk staff, non-governmental organisations, volunteers from many universities in HCMC and local media. Also attending the ceremony are representatives of Dragon Capital Corporation and Mango Bay Resort who have sponsored the SOS traveling exhibition.
After cutting the inauguration ribbon, all participants and students visit the SOS travelling exhibition. This is a tent of about 60m2 that included different interactive exhibits, models and games. The SOS travelling exhibition tent emphasizes that consumers are the most dangerous threat to wildlife. Everyone can contribute to wildlife protection by: "Say NO to illegal wildlife products." More than twenty volunteer students who guide the students at the travelling tent are also presented. These volunteers were equipped with adequate knowledge and skills and now are ready to help secondary school students through the exhibition.