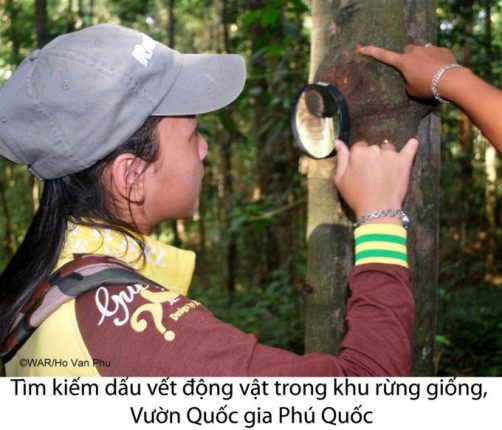 Phu Quoc Island, 6 March 2011 – A programme entitled "One day in the forest" was successfully developed for secondary school students to visit Phu Quoc National Park. This one-day trip is an opportunity for the students to experience the beauty of the nature and to appreciate the forest values. The trip helps the students to be aware of threats to the valuable forest of Phu Quoc and encourage them to take actions to protect the nature.
Different from traditional tours to the forest, in this programme, the students are guided and motivated to learn and enjoy the forests in a joyful way. They seeks for animal traces with a magnifier, learn about tree barks by carve it on the paper with a pencil, listen to the Park staff and find our endangered species in the forest, close the eyes and meditate to learn about the water cycle, and create model/painting to show functions of the forest by using natural materials at a spring such as stone, sand, earth, dry branches and leaves. Games and warm up activities are included to make the trip more fun and exciting. At the end of the trip, each student decorate a postcard using natural materials and bring the postcard home as a reminder of what they commit to do to protect the forest.
The trip was successfully tested with about forty students aged 12-15 years old and eight teachers from four secondary schools in Phu Quoc Island.
"This is the first time I've have enjoyed beautiful forest of Phu Quoc National Park. I love the nature more and will take part in protecting the nature from today", said Do Quang Truong, 14 year-old boy from Ganh Dau Secondary School.
Development and implementation of the trip is a part of the training course entitled "Skills on nature interpretation" for Environment Education Group of Phu Quoc National Park from 2 to 7 March 2011. In the next three months, the trained environmental education staff from Phu Quoc National Park will conducted this trip for approximately 200 members of the five Green Clubs in the Park's buffer zone.