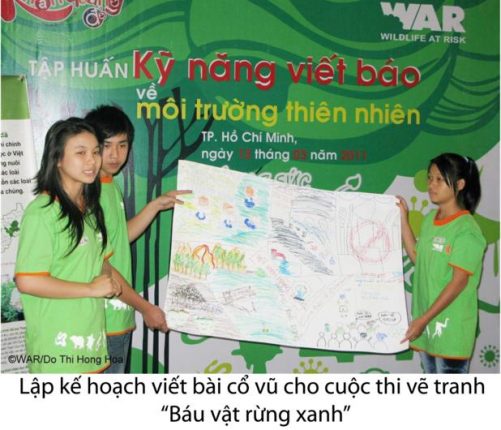 Ho Chi Minh City, 13 March 2011 – Twenty children aged 11 to 15 years old learnt and practice to write article about nature. These children come from the Young Media Club and I love nature Club of Khan Quang Do Magazine. This is an effort of the Wildlife At Risk (WAR) and Khan Quang Do Magazine to equip these children with journalist writing skills so that they are able to write articles, especially nature articles.
The children firstly learnt about the nature and biodiversity of Vietnam and see their important role as a young journalist in nature conservation. They then learn the writing skills through the talk of an experienced environment journalist from the Thanh Nien Newspaper. The students were so excited with the talk and got ready to practice these skills.
In the coming time, these trained young journalists will practice what they have learnt in the course by writing articles to support for the drawing contest entitled "Treasures of the forest" with a focus on "Conservation of the Javan Rhino and other endangered wildlife". The qualified articles will be published in the Khan Quang Do magazine, together with the drawing contest.
The children are now ready to write articles about nature. They are excited to make their small contribution to the conservation of Vietnam nature through their pens.