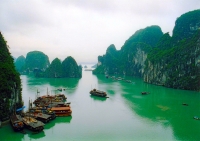 WAR's CONSERVATION ACTIVITIES IN CONTEXT
The Socialist Republic of Vietnam is situated on the south-eastern margin of the Indo-China peninsula.  It stretches over 1,600km from north to south, and is less than 50km wide at its narrowest point.  The population exceeds 86 million, comprising mainly Viet (Kinh) people (87%), and 53 other ethnic minority groups, most of whom inhabit Vietnam's mountainous areas. 
Three-quarters of Vietnam is hilly or mountainous.  The Truong Son or Annamite Range, for example, extends for nearly 1,200km from the north to the south along the border with Laos and Cambodia.  Other distinct regions include the vast Red River Delta in the north, the Mekong River Delta in the south, and a number of small coastal plains in central Vietnam. 
Vietnam lies in the monsoon tropics.  The North has four seasons: spring, summer, autumn and a cold, damp winter. The South has distinct wet and dry seasons, with small very humid change over times in between (around April for the build up to the monsoons, and October towards the end). 
Although Vietnam is a rapidly developing country, a significant number of households, especially in the rural areas, still live below the poverty line.  Three-quarters of the population lives in rural areas.  Average income per capita is below USD5,000 per annum. 
Vietnam is culturally rich and has a proud history dating back several thousand years.  During the past century, however, war has had a profoundly negative economic and environmental impact on the country. 
In the 21st Century, new population and development pressures are also taking their toll on Vietnam's astoundingly rich variety of animal and plant species (
Biodiversity
).