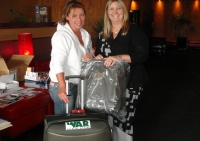 SCHOOLS
Environmental Education Programme for Schools
The future of wildlife conservation in Vietnam lies in the hands of today's school children.  Inspiring them to appreciate the value of, and take pride in, their unique natural heritage is vital.
In early 2007, WAR commissioned a well-known Vietnamese TV personality and natural history enthusiast to devise and deliver an environmental awareness program aimed specifically at local teachers and students.  The programme schedule included field trips to Cat Tien and Nui Chua National Parks, exposing the participants to practical ecology beyond the classroom and instilling in them a greater appreciation of nature.  The initiative was greeted enthusiastically and stimulated interest among policy makers.
Previously, WAR worked with the Youth Union (Youth Communist Party) of Ho Chi Minh City to distribute environmental awareness and to over 700 schools in HCMC and other parts of southern Vietnam, including resources and guidelines for teachers in the classroom, at the zoo.  WAR's marine conservation awareness raising programme was a big event for 500 Con Dao Island kids with a series of developing conservation competitions and a successful campaign entitled 'Bien Cua Em (My Sea).
WAR Presentations to HCMC Schools
The focus of WAR's terrestrial conservation awareness raising programme for HCMC schools is an  Awareness Display situated within the Cu Chi Wildlife Rescue Station (CCWRS) and a one hour presentation delivered to local schools on request.  For information about how a school may receive a presentation, please contact Simon Faithfull, the WAR School programmes coordinator, and Manager of the CCWRS.
Visits by Schools to WAR Projects
WAR in association with Free The Bears (FTB) at Cu Chi, Cat Tien, and Hon Me in Kien Giang Province, now has a visitors' programme as well as a volunteer programme for schools and universities to assist with awareness raising and conservation in situ or ex situ.  For further information please contact Simon Faithfull with details of your curriculum needs and time schedules.
How Schools Can Help WAR
Examples of how schools have helped WAR in its efforts to conserve the wildlife of Vietnam include: 
Raising funds by activities such as bake and cake days (every contribution counts!)
Sponsoring a species
Naming an animal
Planting trees and food plants for animals
Designing and raising funds for animal cages
Arranging annual schedules for visits to WAR's awareness facilities
Supporting other conservationist NGO's and providing local guides when on field trips in national parks.
'Quick Click' Easy Find
Contact details of the Manager, Schools Programme, click 
Contact Us
.
How to assist with labour for the Schools Programme, click 
Volunteers
How to sponsor or donate to the Schools Programme, click 
How to Help