Ho Chi Minh City, 21 December 2012 – More than 150 individuals of native fishes including Three-lined Rasbora (Rasbora trilineata), Fighting Fish (Betta splendens) and Rasbora (Rasbora paviana) were released to Nhieu Loc Canal at Dien Bien Phu 2 Bridge, Binh Thanh District. Those fishes were bred in the programme titled "Breeding and releasing native fishes back to the wild" that started in February 2010 of WAR.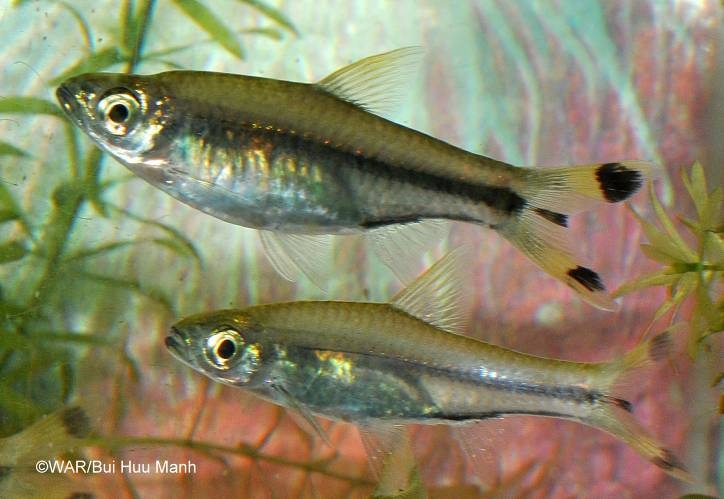 In this releasing, more than 50 individuals of Three-lined Rasbora have been successfully bred and released back to the wild for the first time. This species is distributed in the south of Vietnam. It's commonly found in slow water bodies such as lakes, swamps, streams and rivers. Three-lined Rasbora feeds on small insects, especially mosquito larva. It also feeds on floating foods including organic matters and thus it helps to clean domestic waste water. Under WAR's supports, more than 20 members of the 350.org Vietnam Campaign participated in the releasing of these fishes. The activity aims to repopulate native fishes in the wild and encourage local people to use native fishes for aquariums.
Female Three-lined Rasbora (up) and the male (down) ready to be released To date, over 1300 individuals of four native fish species including Fighting Fish, Croaking Gourami, Rasbora and Three-lined Rasbora have been released to tributaries of the Saigon River. WAR will continue this programme to breed and release more native species of fresh water fishes.You are encouraged to contact WAR for native fishes for your aquariums and useful consultations related to breeding and releasing native fishes.
Please download the press release here.