Early morning on the 21st November 2008, conservationists from Wildlife At Risk (WAR) and government officials from the Forest Protection Department worked to together to safely transfer an endangered cat from the illegal wildlife trade, an "Asian Leopard" Panthera pardus.
Staff from the Cu Chi Wildlife Rescue Station (CCWRS) traveled 200kms south to the Mekong Delta town of Vinh Long where they were confronted by a 35kg apex predator. The gentleman keeping the leopard boosted that he had bought the cat from a trader in neighboring Cambodia as a cub and brought her over the border 3 years ago.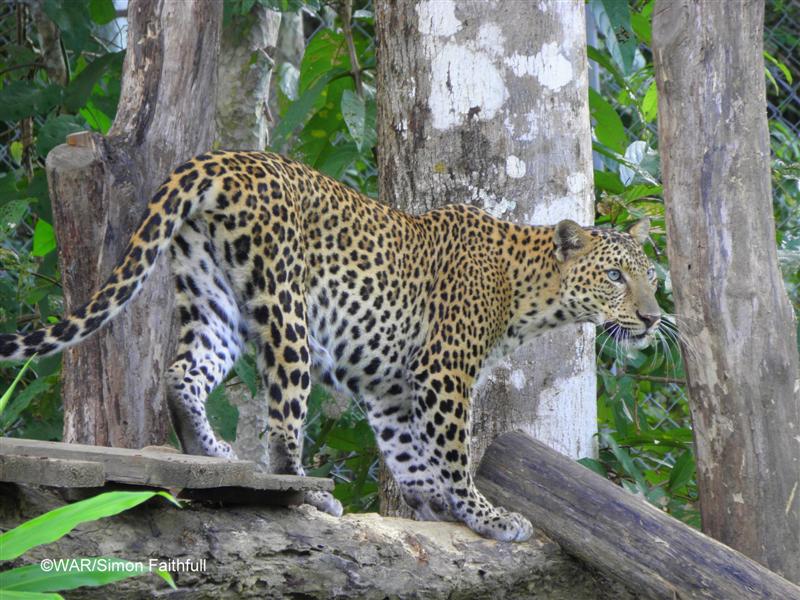 After several hours the sedated leopard was safely brought to her new home – CCWRS where she remained for almost two years being cared for by dedicated conservationists.
On 31st May 2010, after the successful completion of her brand new home in Cat Tien National Park, Dong Nai Province. She was eventually transferred from CCWRS to a large enclosure, which was specially built for her, roughly 150m2 of semi natural environment complete with climbing frames, concrete tubes and a secure off-limits area.
"Lucy"- new name of the Leopard, will now remain here for her remaining life, she can never be released back to wild due to the fact she has no real natural hunting skills, very little fear of humans and no suitable habitat.
If you want to see Lucy, then please visit Cat Tien ational Park and staff from Wildlife At Risk (WAR) will be happy to show you around their wildlife rescue facility.
WAR urges everyone "Never buy or consume any wildlife products, keep wildlife – WILD".