Ho Chi Minh City, 28th May 2013 –Cu Chi Wildlife Rescue Station (WRS) for the first time has received two individuals of Green Peafowl (Pavo muticus) and four individuals of Blue Peafowl (Pavo cristatus) of which four are males and the left are females. They are confiscated from an illegal trade facility in Phu Tho Hoa Ward, Tan Phu District, Ho Chi Minh City (HCMC), by Ha Noi Environmental Police in cooperation with HCMC Environmental Police and Forest Protection Department.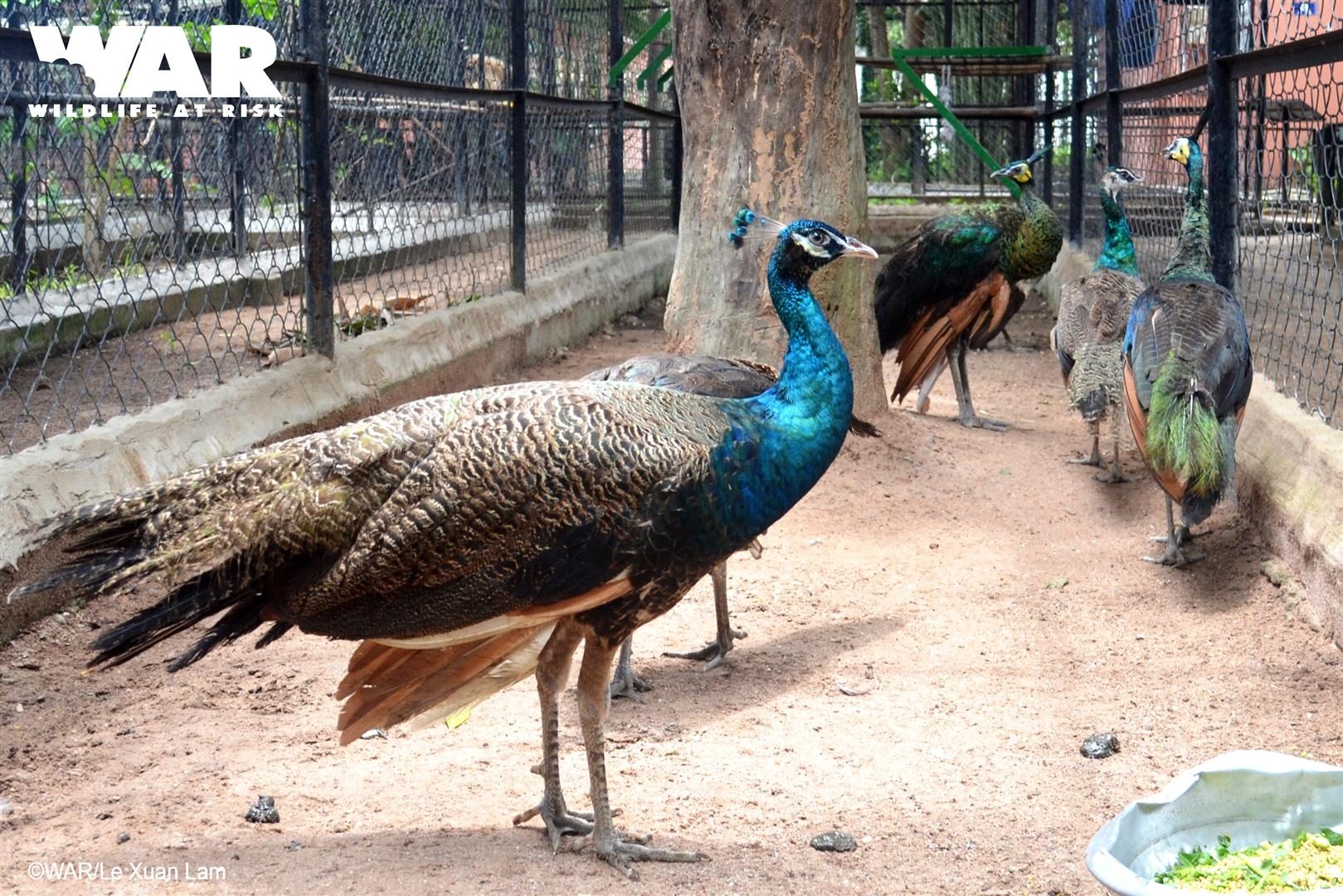 Rescued wild peafowls All peafowls are in good health with beautiful shining plumages. The two Green Peafowls will be released soon to a suitable habitat in the south of Vietnam. The four Blue Peafowls which origin from India could not be released to the wild in Vietnam. They will be retained at Cu Chi WRS for educational purposes until appropriate solution is identified. Green Peafowls especially mature males have unique colourful plumage and thus often hunted illegally for pet and sometime for meat. The number of wild peafowls is declining sharply. The species is listed as endangered species (EN) with high risk of extinction in the Vietnam Red Book.
Also in late May, WAR worked with Ho Chi Minh City Forest Protection Department to rescue and transfer two endangered Moon Bears (Ursus thibetanus) from Binh Thuan Province to Cu Chi Wildlife Rescue Station. These bears had been captured in two tiny cages for more than 20 years. They were pretty weak and exhausted at rescue time. One of them lost one fore-paw; possibly because of a snare trap. The bears are now closely watched by WAR staff in order to improve its' health.