Ho Chi Minh City, 17th March 2012 – Wildlife At Risk (WAR) works with Ho Chi Minh City Forest Protection Department and Hoang Phap Pagoda to rescue and safely transfer a crocodile, which could be a critically endangered Siamese Crocodile. This is the first time WAR has successfully transferred a crocodile to the Cu Chi Wildlife Rescue Station (CCWRS)".
The crocodile measuring 2m length and weighing roughly 30kg. Two years ago, a local person living in District 7, HCMC bought this crocodile in Dong Thap province and kept it at home. She decided to donate the crocodile to the Hoang Phap Pagoda for "good-luck releasing". After a discussion with Ho Chi Minh City Forest Protection Department, Hoang Phap Pagoda decided to hand over this crocodile to CCWRS.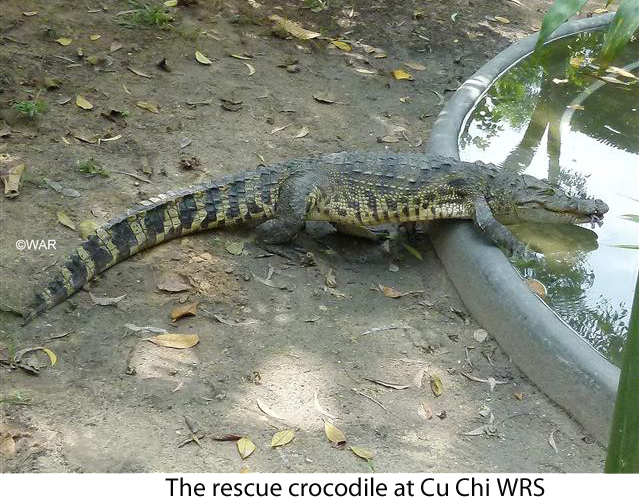 Siamese Crocodiles are the world's fourth most endangered crocodilian species and are classified as "critically endangered". They are also listed in the Vietnams' Red Book. Although the Siamese Crocodile have been raised successfully in several farms throughout Vietnam, it's only found in one location in the wild, Cat Tien National Park.
WAR staff at CCWRS conducted health check and quarantine this crocodile right when it's arrived. The Crocodile will be carefully taken care of in order to be ready for being releasing to its right habitat.
After the crocodile was successfully transferred to CCWRS, Mr. Thich Tam Hue – president of the Hoang Phap Pagoda who is a superior Buddhist monk along with other Buddhist monks visited CCWRS and voluntarily handed a King Cobra (Ophiophagus hannah) of 4.5m length and weighing about 10kg to the rescue station. This King Cobra was also transferred to the Pagoda by a local citizen for good-luck releasing. In the future after quarantine, this King Cobra will also released back to the wild where they belong
WAR does not encourage the purchasing of endangered wildlife for good-luck releasing. However, WAR highly appreciates the cooperation of pagodas and temples donating wildlife to the CCWRS that will eventually be released back to the wild.