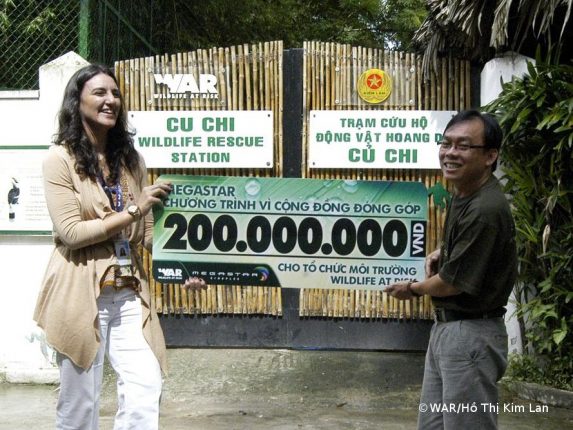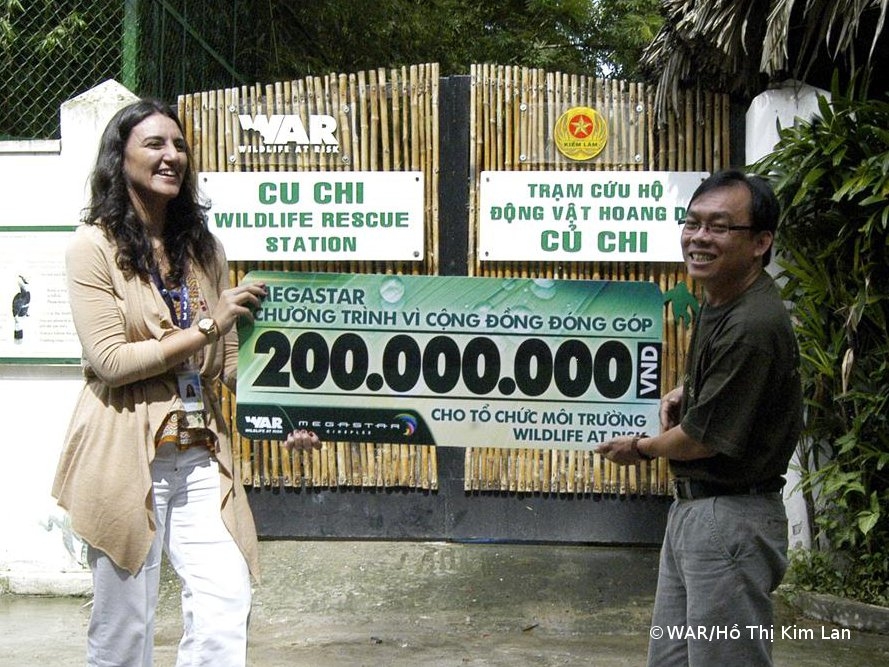 Ho Chi Minh City, July 2013 –The Media MegaStar Ltd.Co. provided generous supports for Wildlife At Risk (WAR) to rescue endangered wildlife as well as to promote rescue activities amongs its clients. The Community Service Responsibility Fund that was raised last May through selling attached combo of the environmental film entitled Epic was contributed to construct a new enclosure for rescued birds and to name a Moon Bear, a Yellow-cheeked Crested Gibon and a Small-Clawed Otter at Cu Chi Wildlife Rescue Station (WRS).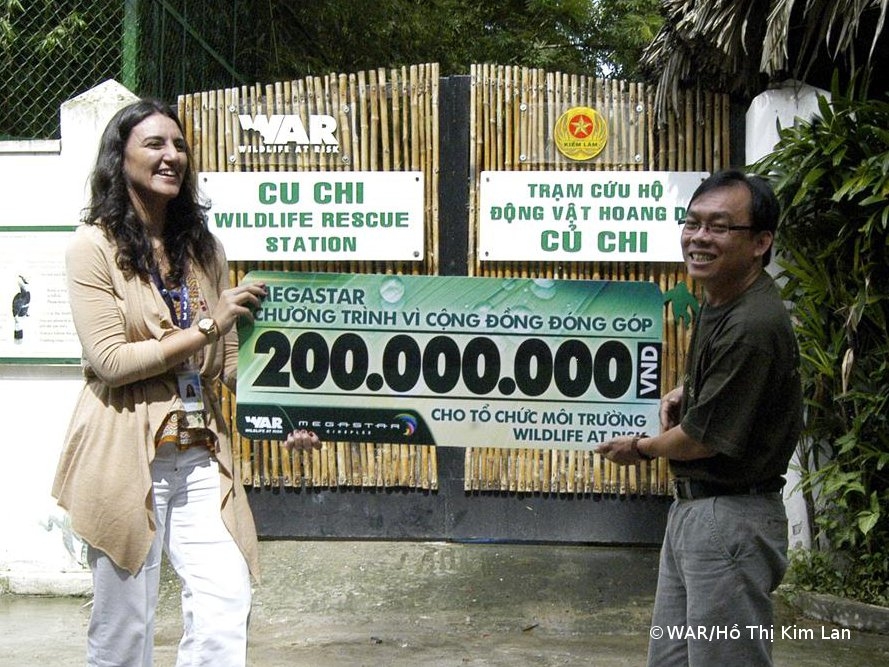 Ms.Mariam El Bacha –Director of Operation_ MegaStar, donates cash to WAR's wildlife rescue activities
On 20 July 2013, MegaStar also organised a trip for 20 staff and clients to visit Cu Chi WRS. This is the first time, the visitors have obssered rescued endangered wildlife and got to know about different moved stories of the rescued wildlife. They also joined WAR's staff prepare food and feed the wildlife. These activities helped visitors not only learn more about endangered wildlife and the importance of wildlife protection but also get to know how an endangered animal is rescued.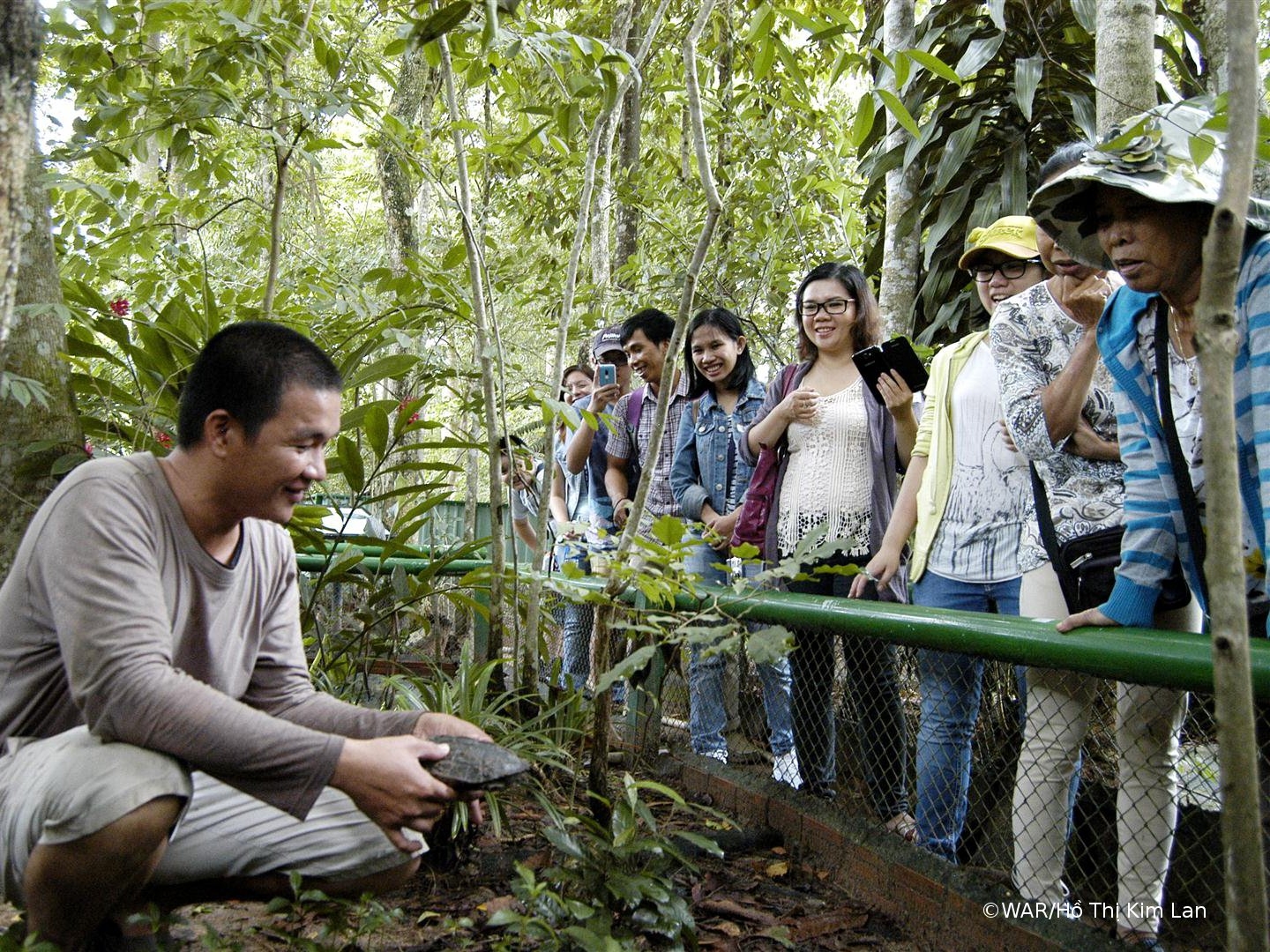 Visitors learning about an endangered turtle at Cu Chi WRS Visiting the Education Center and interacting with wildlife trade display items and actual objects, the visitors learnt more about illegal trade and consumption of wildlife throughout Vietnam. At the end of the trip, the visitors folded paper birds and wrote on the birds any action they could take to protect wildlife.The trip is a new and exciting experience for all visitors. It inspires and encourages them to take actions to protect wildlife in the future. Before leaving, the visitors signed down their names to show their commitment to Vietnam's wildlife protection. "My two kids and I are totally enjoyed this exciting trip today. WAR staff show me diferrent simple actions that we could do to protect wildlife. We commit to practice those actions, and we will encourage other people to do like us.", said Ms. Thy Dinh Nguyen Chu – a MegaStar Client.WAR would like to express our sincere thanks for the generous support from MegaStar and its clients!
Please see more photos of the trip to Cu Chi WRS here