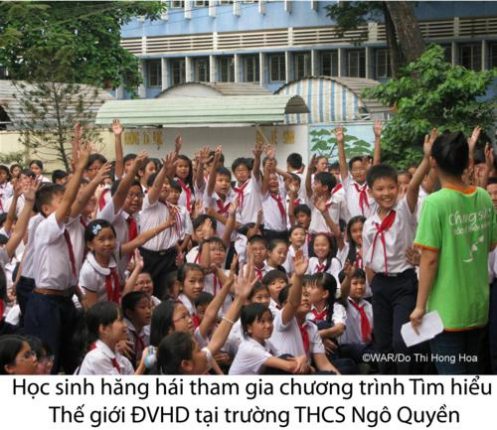 Ho Chi Minh City, from February to March, 2011-  Sixteen members of "I love nature" Club, Khan Quang Do magazine has formed three groups to initiate and conduct four environment communication projects for more than 3500 students in four secondary schools of Ho Chi Minh City. This is the opportunity for the children aged 11 to 15 years old to practice communications skills they learnt during the training last year. Each group of children is supported by one or two volunteer students who came from Ho Chi Minh City Universities.
At Ngo Quyen Secondary School, Tan Binh District, the project is to organise a quiz show entitled "Discovering the Wildlife World". This is an opportunity for students to learn about wildlife species and how to protect these species. Students who provide correct answer received a gift. The quiz show was conducted successfully and was attended by more than 1000 students in the school.
The projects in Lac Hong Secondary school last for a month in which students from different classes take photos of the city and in school to show the nice and ugly actions of the human being toward the nature. Nineteen photo collections was sent to this contest entitled "Human and Nature – Nice and Ugly behaviours". The best collection was then awarded in the school.
At Phu My Secondary School, Binh Thanh Dist., the contest entitled "Bin design – clean and beautiful class" was carried out to to encourage students to throw garbage in right place instead of throwing it indiscriminately. The students also decorated the dust bin and use them in their class.
At the end of the program, best students who had great contribution in each project in the three secondary schools were selected to join a study tour to Cu Chi Wildlife Rescue Station.
This activity is operated under the cooperation between WAR and Khan Quang Do Magazine that aims to create the generation of secondary school students who care for the environment and be able to make right decision toward environment protection and wildlife conservation.