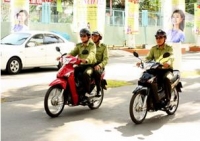 The Forest Protection Department of HCMC (FPD-HCMC) and WAR have cooperated to implement a project to support activities of a Mobile Team consisting of members of the FPD-HCMC.  The Mobile Team started its activities from August 2008.
 Programme Objective
 The programme seeks to eliminate the illegal trade of wildlife on the streets of HCMC and make regular visits restaurants to check if wildlife is being illegally served to customers.
 Programme Activities 
Conduct daily patrols of the streets of HCMC by motorbike.

Respond to calls from tourists on illegal wildlife trade made to WAR HQ via the Abuse Hotline.

Make regular checks of restaurants where it is reported that wildlife is served to customers.

Cooperate with other FPD offices such as those at the Cu Chi and Can Giao Districts in order to confiscate wildlife from illegal traders, or rescue endangered species that are being kept as pets at private house or restaurants, often in very poor conditions.
Cooperation with the Cu Cu Wildlife Station (CCWRS)
 Where appropriate, wildlife confiscated by the Mobile Team is taken to the CCWRS for husbandry care and possible release back into the wild.
 'Quick Click' Easy Find
 Contact details of the Manager, Mobile Team, click Contact Us
Pictures of the Mobile Team at work, click Gallery MT
How to report abuse of wildlife click, Abuse Hotline
How to sponsor or donate to the Mobile Team click, How to Help