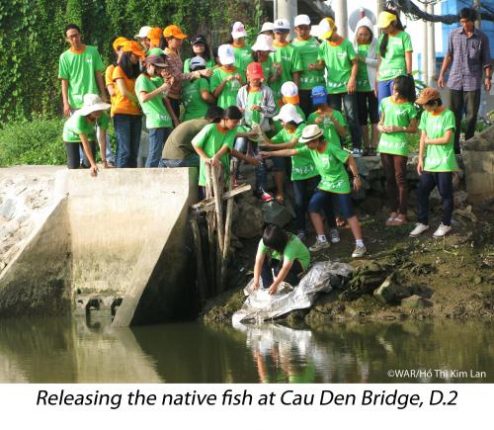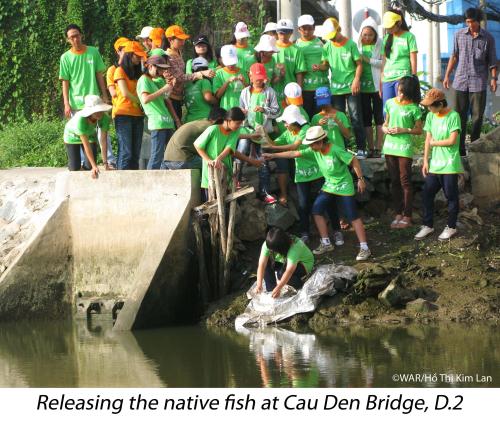 Ho Chi Minh City, 20th May, 2012 – To celebrate the International Day for Biodiversity 22nd May, 30 children aged 12 to 15 years old from "I Love Nature Club"- Khan Quang Do magazine released native fishes to the wild and then visited Cu Chi Wildlife Rescue Station (WRS) to help Wildlife At Risk (WAR) staff prepare food and feed the wildlife.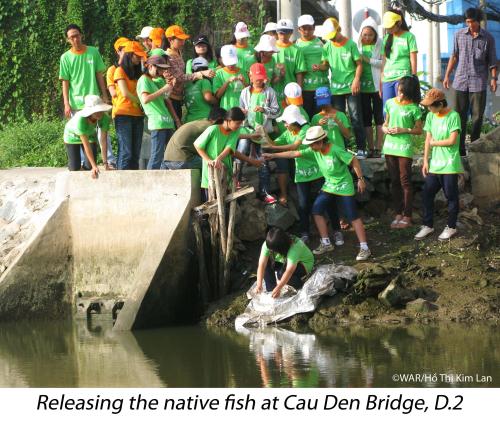 Over 200 native Rasbora (Rasbora paviana), Fighting Fish (Betta splendens) and Croaking Gourami (Trichopsis vittata) were released to a tributary of Sai Gon River under Cau Den Bridge in District 2. The native fish releasing contributes to the biodiversity through repopulating native fish populations that are degrading in the City. These fishes were bred in the programme titled "Breeding and release native fishes to the wild" that was partly supported by LIN (Center for Community Development). After releasing the fishes, the children visited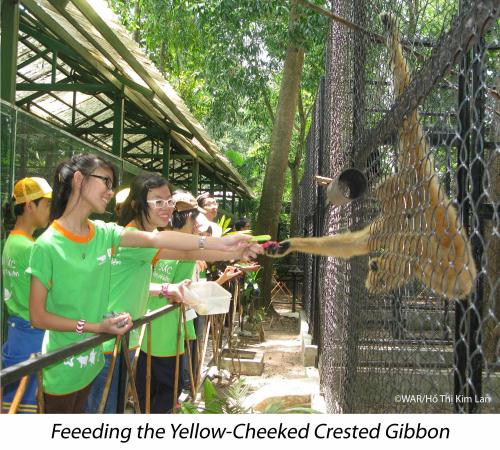 Cu Chi WRS where they prepared food and then fed rescued endangered wildlife. This is an opportunity for children to actually act to save endangered wildlife. Stories about origin and journey of each endangered animal before getting to Cu Chi WRS help the children to understand more about the illegal trade and consumption of wildlife throughout Vietnam. All the children committed to take actions to protect wildlife, including convincing other people to act also. Before leaving, the children participated in various exciting games to learn more about wildlife and the significance of the International Day for Biodiversity 22nd May. 
"Today, all the children did take actions to help wildlife and Vietnam's Biodiversity. We hope that everyone will also take practical action to save wildlife, not only on the occasion of the International Day for Biodiversity but every day through the year round", said Mrs. Do Thi Thanh Huyen, Wildlife Education Manager –WAR. 
 This activity to celebrate the International Day for Biodiversity 22nd May is oneactivity of the programme titled "Take part in Nature Protection year 2012", implemented by WAR and Khan Quang Do magazine. This year, the programme focuses on training the children aged 12-15 years old with persuading skills. When the children see any negative behaviour toward the nature and wildlife, they will come to talk, explain and persuade that person not to repeat that behaviour. The programme also includes many other exciting activities such as discovering the nature, visiting wildlife farms, photo contest, writing skill training and exciting games.