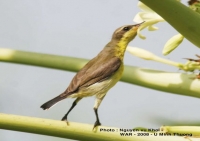 DISCOVERING THE BOUNTIES OF A JEWELLED ISLE
Introduction
The Island of Phu Quoc is the largest island of Vietnam and it still contains a valuable and relatively undisturbed wildlife habitat.  . It is located in the Gulf of Thailand and is a part of the Kien Giang Province.  It has a rainy season from May to late November and is rapidly becoming a target for foreign tourists, which means that conserving its wildlife is becoming an increasing challenge.  WAR staff, led by the Phu Quoc Project Manager and WAR CEO, Nguyen Vu Khoi, has been working on the Island since 2006. 
The aim of the WAR programme on Phu Quoc is to help to conserve the nature of the Island by providing information about its biodiversity and then to propose sustainable solutions for the development and conservation of any endangered species.  As its project partner, WAR has the Phu Quoc National Park (PQNP).
The PQNP was established as early as 2001 by an upgrading of the Natural Conservation Area.  It is located in the northern part of the Island and has a total area of 31,422ha.  In general, the Park's topography is characterized by a reduction in elevation from the north to the south and from the east to the west.
The fauna and flora of the PQNP and of the Island as a whole, is gradually being documented by the WAR experts in conjunction with the Park's staff and supporting scientists from cooperating institutions.  New items are constantly being released by WAR via its website and via the local media channels.  Annual updates are conducted on checklists of fauna such as the Damselfly, Dragonfly and Butterflies.
WAR's MAIN PROJECT ACTIVITES ON PHU QUOC ISLAND
WAR's main project activities have been focused on the topic shown below.
The Conduct of Biological Surveys on the Fauna and Flora of Phu Quoc. 
This is part of an embryonic conservation programme.  WAR is supporting strategic surveys by wildlife specialists.  Surveys include a wild orchid survey a herpetorological survey, and a bat survey, a primate assessment and fresh water fish, bird and butterfly surveys.  In addition, WAR staff worked on the production of field guides that will help to train forest rangers, enabling them to incorporate basic ecotourism services into their normal patrol duties. The books will also serve as basic photographic guides for tourists with an interest in natural history.
The most recent butterfly survey conducted recorded well over 150 species.  It reveals even greater species diversity on the Island than originally thought.  Over 55 dragonfly and damselfly species have already been observed. 
WAR is also working with the Island authorities in an effort to minimize the environmental impact of mass tourism on Phu Quoc National Park.  It has supported the drafting of a list of recommendations in the form of an ecotourism strategy document.  A pilot butterfly breeding program for common species has been launched at Mango Bay Resort as part of a programme to conserve marine stocks by developing alternative income streams for local fisherman.  Other plans include production of an endangered plant ID guide and establishment of a seed bank.  Preliminary surveys of Phu Quoc's plant life have already produced some spectacular discoveries, including several endangered orchid species.
Introduction and Support of Several Participatory Sustainable Development Models 
These involve mud and swimming crab cultivation models, a butterfly demonstration site, and a wild orchid garden.
Direct Training and Support to PQNP Staff
This includes ecotourism training to Park staff and relevant agencies, 'on-the-job' training on how to conduct wildlife surveys, and how to publish survey results.
Rehabilitation of the Locally Endangered Plant Species: Dipterocarpus intricatus
This has consisted of the implementation of a trial regrowth programme that involves collecting seeds, establishing a nursery, instituting trials on seedlings and then actually planting suitable seedlings in the field.
Public Awareness Campaign
This has involved training on how to conserve nature within a sustainable ecotourism environment.
'Quick Click' Easy Find