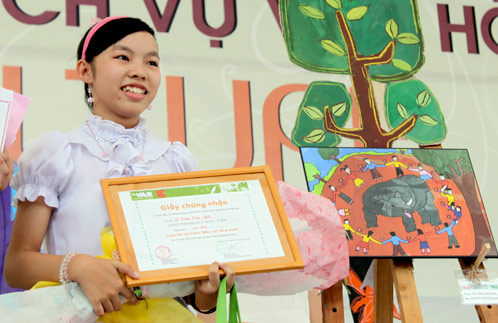 Ho Chi Minh City, 26th May, 2011 – Wildlife At Risk (WAR) and Khan Quang Do magazine announce that the awarding ceremony of the drawing contest titled "Treasures of the Forest" which focused on the "Conservation of the Javan Rhino and other endangered species" will be organised at 9AM on Wednesday 1st June 2011, at Phu Tho Stadium, Ho Chi Minh City.
This unique drawing contest titled "Treasures of the Forest" was conducted from 23rd March until 20th May 2011. More than 1000 paintings were sent to the contest. Many of them are very impressive and attractive highlighting Vietnams' unique but endangered wildlife.
At the ceremony, apart from awarding the 17 best paintings, a game show on Vietnam wildlife protection will also be organised in order to raise awareness of children and the public of wildlife protection so that wildlife is not pushed to the brink of extinction such as the Javan Rhino in Vietnam.
This awarding ceremony is the first activity of the five-day festival entitled "The Cultural Product and Services Festival – Vietculture 2011", which was organised by Saigon Cultural Products Corporation in co-operation with Tuoi Tre magazine, from 1st to 5th June at Phu Tho Stadium, 229 Ly Thuong Kiet Street, District 11, Ho Chi Minh City.
The 50 best paintings will be displayed from 1st to 5th June 2011 at the festival. You are invited to attend the awarding ceremony and the Vietculture Festival 2011. Free admission for all of visitors.
Please download the Press Release here.