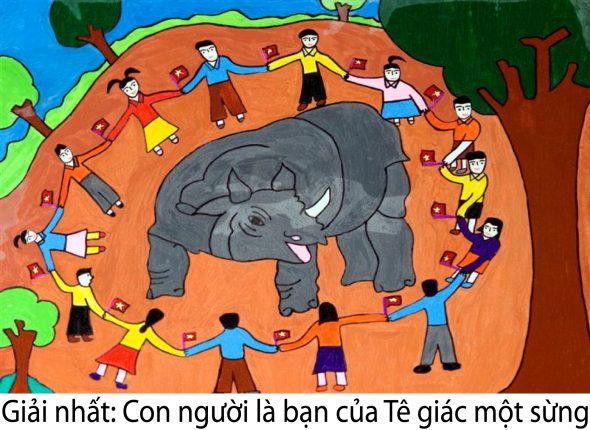 Ho Chi Minh City, 01 June 2011 – Wildlife At Risk (WAR) cooperates with Khan Quang Do magazine awards the 17 chosen paintings of the drawing contest entitled "Treasures of the Forest", focusing on "conservation of the Javan Rhino and Vietnams' endangered species". This award ceremony that is organised at Phu Tho Sport Stadium, Ho Chi Minh City is to praise the best paintings and to raise awareness of the children and the public about endangered wildlife in Vietnam so that they are not pushed to the brink of extinction such as the Javan Rhino. This is also an event to celebrate Biodiversity Day on 22nd May and World Environment Day on 5th June.
Participated in the ceremony are about 200 people, including children, members of themed clubs – Khan Quang Do magazine, representatives of Ho Chi Minh City and District Department of Education and Trainings, conservation leaders and staff, leaders and staff of Wildlife At Risk and Khan Quang Do magazine, local people and local media.
After three months of launching from 23 March to 20 May 2011, the drawing contest had received more than 1000 paintings, mostly from children aged 11-15 years old from many provinces throughout the country. The first prize is given to the painting entitled "Humans are a friend of the Javan Rhino?" belonging to Le Tran Truc Linh- 12 year-old-girl from Ho Chi Minh City. This painting was inspired by the case of the death Rhino in Cat Tien National Park about a year ago. The author expects that humans, especially children take part in protecting the Javan Rhino and be friend with other wildlife.
During the award ceremony, a quiz show on Vietnam's wildlife protection is also organised in order to provide the participants with knowledge and information about the beauty and the value of endangered species. WAR also takes the opportunity to call people and leaders to pay more attention to wildlife protection, and to protect wildlife by daily activities. At the end of ceremony, all participants show their commitment to wildlife protection by signing in a pledge canvas.
According to Mr. Nguyen Vu Khoi, WAR's director: "Each individual could contribute to save the environment and wildlife. Every child that participated in this contest has also contributed to wildlife conservation. We hope that the messages of more than 1000 children in this contest will inspire the public, and the public in turn will act to help Vietnams' wildlife."
Mr. Nguyen Khac Cuong, Chief Editor of Khan Quang Do Magazine stated that: "Children mostly see rhinos, elephants and other endangered species in paintings films or at the zoo. However their paintings are so alive and friendly, which shows their love of Vietnams' nature and unique environment. Their paintings convey a very important message that everyone can learn from, "if you love nature, you love your own life, and once you love your own love, you must love nature".
From 1st to 5th June, over 50 best paintings will be also be displayed at "The Cultural Product and Services Festival 2011 – Vietculture 2011", that was organised by Saigon Cultural Products Corporation and Tuoi Tre magazine, at Phu Tho Stadium.
In the future, WAR will organise various communication and education activities for children aged 11 to 15 years old in order to raise their awareness and motivate them towards wildlife protection.
Please download Press release here.