August, 2014 – Cu Chi Wildlife Rescue Station (WRS) has rescued a baby wild Moon Bear for the first time. The baby lost one paw due to snare trap in the forest of Chu Mom Ray National Park, Kon Tum Province. This male baby Moon Bear is about six month old and weighs roughly 14kg.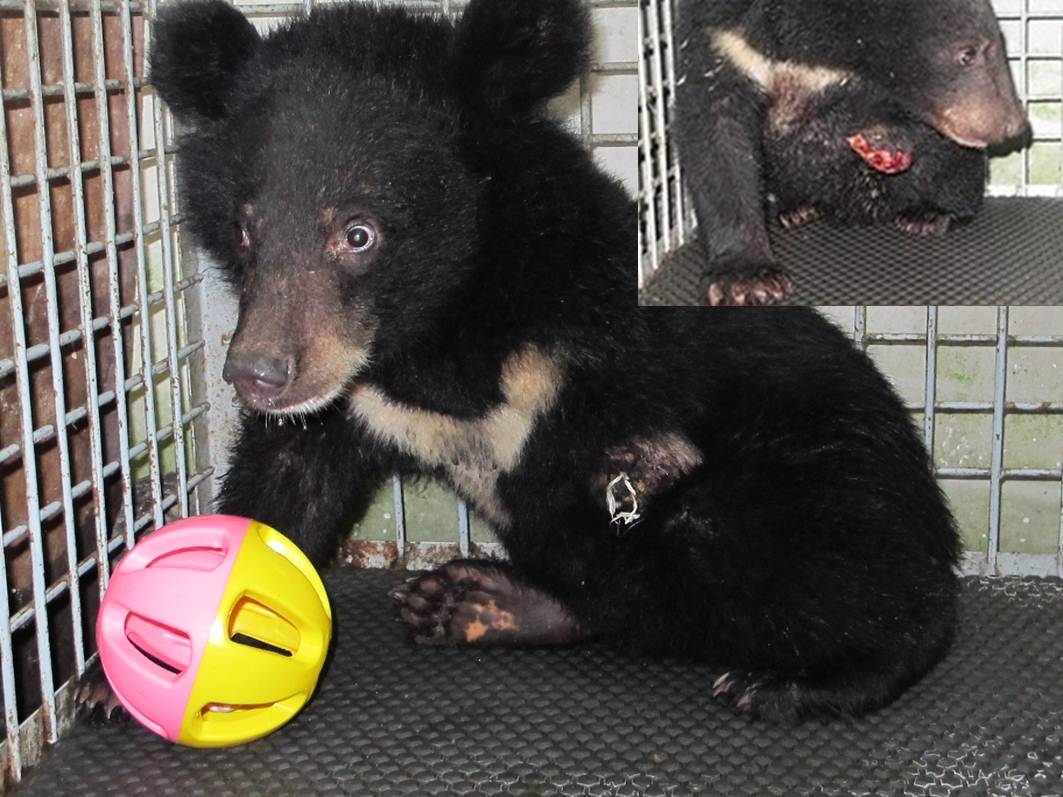 At the beginning, the bear was not only exhausted but also very scare to meet any human. It only stayed still in one corner of its enclosure. When seeing any staff, it became totally aggressive. In those days, as the bear used to feed from its mother and not used to drinking meal, WAR staff had to feed milk to the bear with a spoon attached to a long stick. It's much more complicate and difficult to take care of this wild Moon Bear compare to other bears rescued from bear farms.
After a month staying at Cu Chi WRS, the wound has been healed, and the bear now get used to its new home. It could leak milk on its own and even could taste some soft fruits. The baby Moon Bear will be taken care at Cu Chi WRS for the rest of its live.
Currently, WAR is rescuing over 70 individuals of Moon Bears and Sun Bears at Cu Chi and Hon Me Wildlife Rescue Stations. Rescuing bears is a big challenge as it's not possible to releasing bears back to the wild. Most of the rescued bears are from bear farms where it is too familiar with being fed. When being releasing back to the forest, it always come to residential areas for food and thus it is captured again. Some bears are missing some parts of their body like the above moon bear and be impossible to survive in the wild.
WAR would like to thanks Dr. Vu Ngoc Thanh and the Douc Langur Foundation for calling and supporting us in saving this baby Moon Bear. We are looking forward for further supports in bear rescuing.