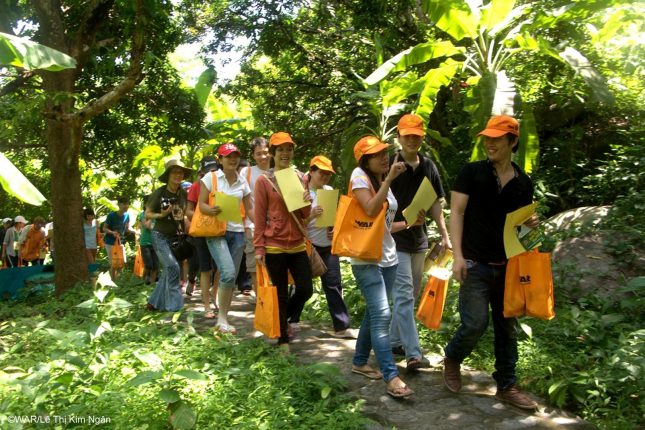 Ho Chi Minh City, dated 24 April 2014 – Wildlife At Risk (WAR) is pleased to announce that the annual programme titled "Wildlife Summer Camp 2014" or also called "Summer Move", which was launched last year, will be organised this coming June with financial support from Beyond Cosmetic.   
Wildlife Summer Camp 2014 is designed to include practical and interactive activities. In order to attract volunteers to the benefits of a care er in wildlife protection the activities will be conducted in an exciting and creative manner. The programme aims to connect youth to wildlife conservation through helping them identify suitable jobs and to inspire them to take actions to protect wildlife both now and for the future. 
The theme of Wildlife Summer Camp 2014 is "Grown with love". The programme will last for five days and four nights at WAR's Hon Me Wildlife Rescue Station. During the programme, volunteers who come from different universities in Ho Chi Minh City will experience daily rescue activities such as preparing food and feeding wildlife, cleaning wildlife enclosures. They will raise awareness of local people on wildlife protection and be equipped with skills related to the profession such as photography, camera trap setting up, and forest surveying. A highlight of the Camp this year is growing food plants for rescued wildlife and forest trees at the Station. 
In order to find suitable students for the Wildlife Summer Camp 2014, a letter writing contest was launched by WAR. In the contest, students were asked to imagine that they were an endangered wildlife and that were about to become extinct due to illegal consumption; they had to write a letter to humans asking for help. The contest lasts from 24 April to 20 May 2014 with the winners of the contest participating in the Wildlife Summer Camp 2014. 
Ms. Huyen Do Thi Thanh – Wildlife Education Manager, WAR added that "About 35 of the best university students will join the Wildlife Summer Camp 2014 at Hon Wildlife Rescue Station this June.We are carefully preparing the programme so that it will continue to encourage and inspire the participants in wildlife protection. If you have a desire to protect wildlife but do not know where to start, you should apply to take part in our Wildlife Summer Camp 2014".
Please see the contest rules for selecting participants for Wildlife Summer Camp 2014 here.
Click here for full press release and here for photos of Wildlife Summer Camp 2013, or also called Summer Move 2013.