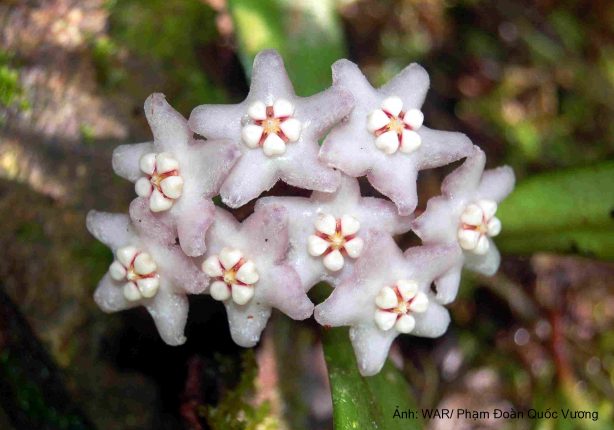 August 2014 – Wildlife At Risk (WAR) has just announced a new plan species for Vietnam i.e the Hoya yuennanensis or "Cẩm cù vân nam" in Vietnamese. Hoya yuennanensis was recorded during a biodiversity survey conducted by WAR in Bidoup – Nui Ba National Park, Lam Dong Province, last May.
The plant with a few clusters of fragrant star-shaped flowers was found in the evergreen forest at the altitude of 1600m at Cong Troi area. The species that is a liana grows from the earth, or parasites on rotten wood and wet substrates.
This spwecies was described for the first time in 1936 in Yunnan Province, China. The plan was known as an endemic specis for Yunnan. This is the first time, Hoya yuennanensis has been recorded in Vietnam. With this discovery, the total number of Hoya species in Vietnam is 27 species.Sample collection and identification of the species was done by Pham Đoan Quoc Vuong – a WAR's Biologist, with the support of Prof. Leonid V. Averyanov from Komarov Botanical Institute, Russia and Mr. Pham Van The from Institute of Ecology and biological Resources Vietnam – IEBR. Please see the announcement of Hoya yuennanensis here. Some other discoveries on biodiversity of Bidoup – Nui Ba National Park were also recorded by WAR. These discoveries will be announced in the coming time.