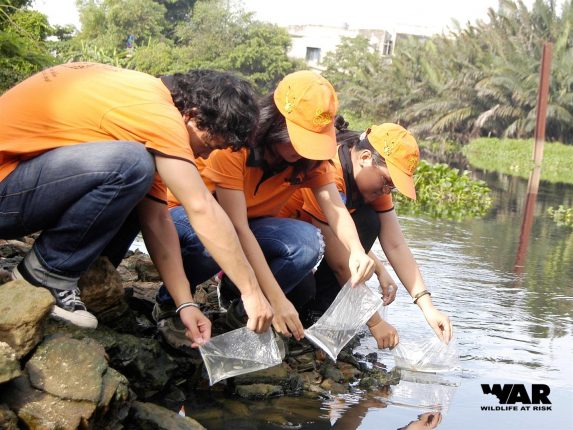 Ho Chi Minh City, 3rd March 2012 – More than 200 native rasbora (Rasbora paviana) and fighting fish (Betta splendens) were released to Cau Do canal, a tributary of the Sai Gon River. This is the fifth time, Wildlife at Risk (WAR) has released native fishes back to the wild, helping repopulate native fish species and encouraging local people to use native fishes for aquariums. These fishes were bred in the program titled "Breeding and release native fishes to the wild" that was partly supported by LIN (Center for Community Development).
This time, the fishes were released by twenty student volunteers from different universities throughout Ho Chi Minh City. After releasing fishes, these students were instructed carefully on how to take care of these fishes. Many of them received rasbora and fighting fishes to raise in their personal aquariums.
"We are pleased to welcome citizens and students of Ho Chi Minh City who visited WAR's office to learn how to raise native fishes and to receive the fishes for their aquariums. It shows that native fish for aquariums are receiving public interest and helping the conservation of these species"
Wildlife At Risk (WAR) has released more than 750 individuals of rasbora sp and fighting fishes to different tributaries of Sai Gon River. WAR is now conducting researches and captive breeding of other species of native fishes in order to release to the wild.
Please download the press release here.