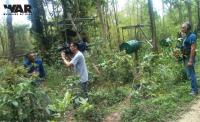 14th April, 2012 – An Italian film crew from La7 television channel came to film the Moon Bears and Sun Bears at Cat Tien Bear and Wild Cat Rescue Station operated by WAR. Footage from the Station will be used to create a documentation film about Vietnam wildlife that will be broadcasted on La7 channel. 
The bears in the 1ha semi wild enclosure were filmed in a way so that it looks like the bears are in the wild. The releasing of two endangered King Cobras, one Leopard Cat and five Elongated Tortoises to the forest of Cat Tien National Park were also film. These endangered animals were successfully rescued and rehabilitated by WAR staff from Cu Chi Wildlife Rescue Station.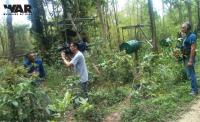 In this documentation films, other endangered animals were also filmed throughout Vietnam such as Pangolin from Cuc Phuong National Park, Delacour's Langur, White-cheeked Gibbon and Golden Headed Langur from Cuc Phuong Primate Rescue Station, Giant Long-legged Cave Fish From Phong Nha Ke Bang National Park, and various insects, birds, small carnivores, snakes, reptiles, moth and butterflies in all those places. 
The film crew was extremel happy with the all the shots they got, including footage of bears enjoying their comfortable semi wild environmental at the Cat Tien Bear and Wild Cat Rescue Station. 
During the filming trip, La7 also supported the wildlife at Cat Tien Bear and Wild Cat Rescue Station by contributing some funds to help buy animal food. WAR would like to thank La7 channel for promoting the unique wildlife of Vietnam and for their great support towards WAR.
Huyen Do