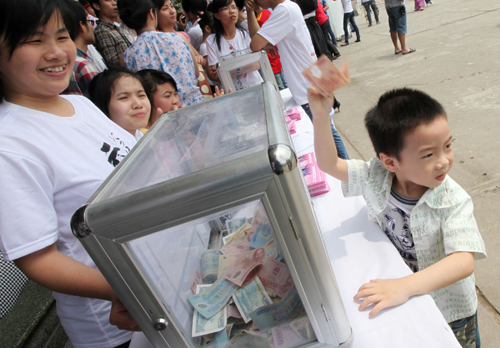 The big news in this edition of our Quarterly Newsletter is about the huge success of the recent fundraising function in Melbourne on 8 Oct 09.  Some $15,320 gross takings were raised.  All funds netted from the night will go direct to developing the Cat Tien Wildlife Rescue Station.  No money will be spent on travel or administration costs as this was covered by individual sponsors.  Every dollar raised will go direct towards 'the cause' of preserving Vietnam's endangered wildlife.
The Event was organized by the WAR Ambassador for Australia, the lovely Ms Jules Cronin-Guss. Jules was ably assisted by a team of willing, ready and able volunteers, including Michelle Christoffersen, Emma Connell, Rosalba Renzella, Jodie Holkner, Kate Hayes, Kristen and Bryana Christoffersen, Peter Raff, Anne Tindall and Tendy from Electric Ladyland. 
MacCormack Associates Consultants was the major sponsor for the night. Celebrity Suzie Wilks hosted the Event with lots of charm.
Chris Jones from the WAR Board in Vietnam represented the Trustee, Dominic Scriven, OBE. On behalf of himself, Chris would like to extend his personal thanks to Margaret and Michael Miller for their very kind hospitality while he was in Melbourne for the Event. On behalf of Dominic Scriven, OBE, the WAR Trustee, and the WAR staff (some of whom come from Melbourne), Chris would like to extend heartfelt thanks to Jules and her team of volunteers, the various prize givers and the individuals who contributed so generously towards the cause of preserving the wildlife of our world. This Event shows that people do care and every person and every contribution, no matter how big or how small, counts.
Jules arranged for an excellent venue at the Electric Ladyland, Capel Street, Prahran. This was a very suitable choice. The night consisted of drinks and a silent action and then a live auction. WAR would like to extend its grateful thanks to Mr. Simon Derham from Marshall White Real Estate for his really excellent services as the Event auctioneer.
A highlight of the live auction included the 'auctioning off' of 'a lucky lad' to some poor unsuspecting young lady (it's said his mother was glad to see the back of him). They are off to Vietnam together on a trip soon: good luck!
However, the biggest fundraiser of the night was the $3,000 paid for the privilege of naming a bear recently rescued from the perils of a crocodile farm by WAR's Technical Advisor, Wildlife, Matt Wills and his field team, including Simon Faithfull, Manager for WAR's Cu Cu Wildlife Rescue Station (CCWRS).
Well done to all concerned! Same again next year, but this time even bigger and even better!